Aerodinamica
In the summer of 1983, the Spider Aerodinamica was presented, in keeping with the style of the 1980s, with lush front and rear spoilers.
Once again, the public found a pet name for the model: "rubber lip". This generation turned out to be the most successful in the Spider's history, though that says less about the car than about the era in which it was built. Most manufacturers had discontinued open-top cars, and so convertible fans bought what was on the market.
In keeping with the plastic style of the time, the interior was also modified; however, the classic "ice cream cone" design of the instruments remained until the summer of 1986. After that, the semi-circular plastic carrier was used, which was also retained in the successor model.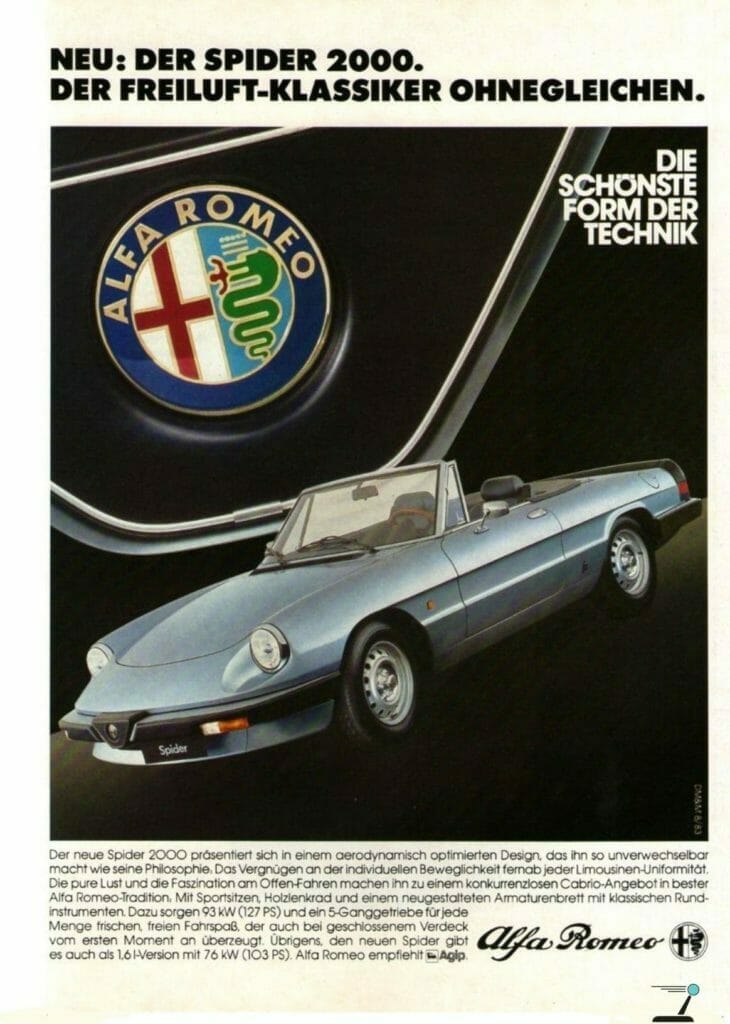 This 1986 Spider 2000 shows up in quite authentic and excellent condition.
The seller tells it had a regular maintenance and the original matching numbers engine works very efficient.
The body is in excellent aesthetic and structural condition, it still has some original factory stickers and no rust coming through is visible
A tear on the soft top should be mentioned as the most obvious defect. The Interior is intact ,well maintained and cared for. Front shock absorbers, brake hoses are replaced and the engine received a soft tuning, showing no trouble the last 2000km since reconditioning.
Number plates and documents from 1995 for re-registration of the vehicle to Germany, are with the car.
From the 3rd series of the Spider this 2000 is the sportiest version.
Enjoy the pictures below, place your bid and get back to the 80ies in very sporty car…
Cover the Insurance with our Partner and only pay € 221-/per anum. Calculate it here
The vehicle description is provided to the best of the seller's knowledge and belief. We at Getyourclassic use our experience to work with the seller to provide a correct and accurate vehicle description. However, the bidder must satisfy themselves as to the accuracy of the description and make all necessary enquiries before placing a bid. Our General Terms and Conditions apply exclusively.
| | |
| --- | --- |
| Year | 1986 |
| Make | Alfa Romeo |
| Model | 2000, Spider |
| Colour | Rosso 514 |
| Displacement | 2000 ccm |
| Horsepower | 127 |
| Location | Palermo |
| Guide Price | € 18.000 – 22.000 |