BMW 850 Ci Ex "Top Gear"
Real Top Gear Feature
Ex Top Gear Collection
One of 1218 built
The number 12 means many things to many people. For an engine builder, it is the zenith of their trade. Where four cylinders are the stock solution, six cylinders denote ambition and eight cylinders scream rather than merely voice a driver's priorities, a 12-cylinder engine scales rarefied and seldom experienced heights of performance and smoothness. 
THE ULTIMATE GRAND TOURER
Development of the 8-Series began in the mid-Eighties, with the car unveiled in production form at the 1989 Frankfurt Auto Show for the 1991 model year. BMW sunk a full $900 million into the car's design, which isn't exactly surprising considering all of the clever engineerings onboard. The handsome coupe's low-slung front end and pop-up headlights meant an impossibly low drag coefficient of 0.29, while the adjustable suspension, frameless door windows, and multiple computing systems added up to provide an unmatched driving experience. The car was wildly popular upon its arrival, with thousands of deposits taken in the week following its unveiling.
Under the hood of the car's launch trim, the 850i, sits BMW's first production V-12, the M70. Borrowing much of its basic design from the company's 2.5-litre M20 straight-six, the 60-degree all-aluminum engine displaces 5.0 litres, and was rated at 296 horsepower and 332 lb-ft of torque when new, with a redline of 6000 rpm. Buyers had a choice between a six-speed manual transmission or a four-speed automatic. The 850i was the first production vehicle to pair a six-speed manual transmission to a V-12 engine, and one of BMW's first cars to utilize a multi-link rear suspension.
picturecredit: https://benautobahn.com/index.php/2011/10/24/top-gear-season-17-episode-3-review/
In 1992 the standard 850i was renamed the 850Ci (with C standing for Coupe), to better align with the rest of the company's corporate naming structure. In 1994, BMW gave the 850Ci a slightly bigger engine called the M73. Displacement jumped to 5.4 litres, rated at 322 horsepower and 361 lb-ft when new. Meanwhile, the automatic transmission went from a four-speed to a five-speed unit.
picturecredit: https://benautobahn.com/index.php/2011/10/24/top-gear-season-17-episode-3-review/
In order to give 8-Series buyers a cheaper, more efficient option versus the V-12, BMW added an 840Ci to the lineup in 1993. Under the hood of early models is an M60 4.0-liter V-8 making 282 horsepower and 295 lb-ft of torque, sending power to the rear wheels via a five-speed automatic gearbox. Unlike the 850, no manual option was offered on the 840Ci for North America. Two years later, the V-8 would grow in displacement to 4.4 liters thanks to a new M62 engine, retaining the same horsepower rating but receiving a jump in torque, to 310 lb-ft
picturecredit: https://benautobahn.com/index.php/2011/10/24/top-gear-season-17-episode-3-review/
In Season 17 / Episode 3 of Top Gear Clarkson and Hammond see if there is a good second-hand bargain for the same price as for a Nissan Pixo – Clarkson believes it might be a nine-year-old Mercedes CL600 he bought, while Hammond seeks to prove the seventeen-year-old BMW 850Ci he purchased is the one.
The angular shape of the 1990s BMW 8 Series still looks attractive to our eyes. Richard Hammond from former Top Gear and now host of The Grand Tour liked the shark-like appearance, too, and he owned this very V12-powered 850 Ci model. While not quite as potent as the range-topping 850 CSi, these models still offered up to 322 hp (240 kW), which was impressive by the standards of the time.
EQUIPMENT:
Automatic
Grey leather
Electrically adjustable steering wheel
BMW Dynamic suspension
BMW Bavaria Professional Stereo
BMW CD changer
Complete BMW tool kit
Full size spare wheel
Original handbook
Original Bosch car phone (not installed)
picturecredit: https://benautobahn.com/index.php/2011/10/24/top-gear-season-17-episode-3-review/
BAD BITS
Everything electrical works EXCEPT Remote central locking doesn't work on the button so I use the key to unlock and lock.
No service book but the Owner can verify the mileage with print outs of the UK MOTs
Carpet in the boot has some stains
Drivers mirror case has a crack
BMW torch in the glovebox doesn't work
WORK DONE
Wheels refurbished with new BMW centre caps
On Board Computer refurbished with new screen and bulbs
New headlining
2 new fuel pumps
2 new batteries
New radiator
Full service October 2021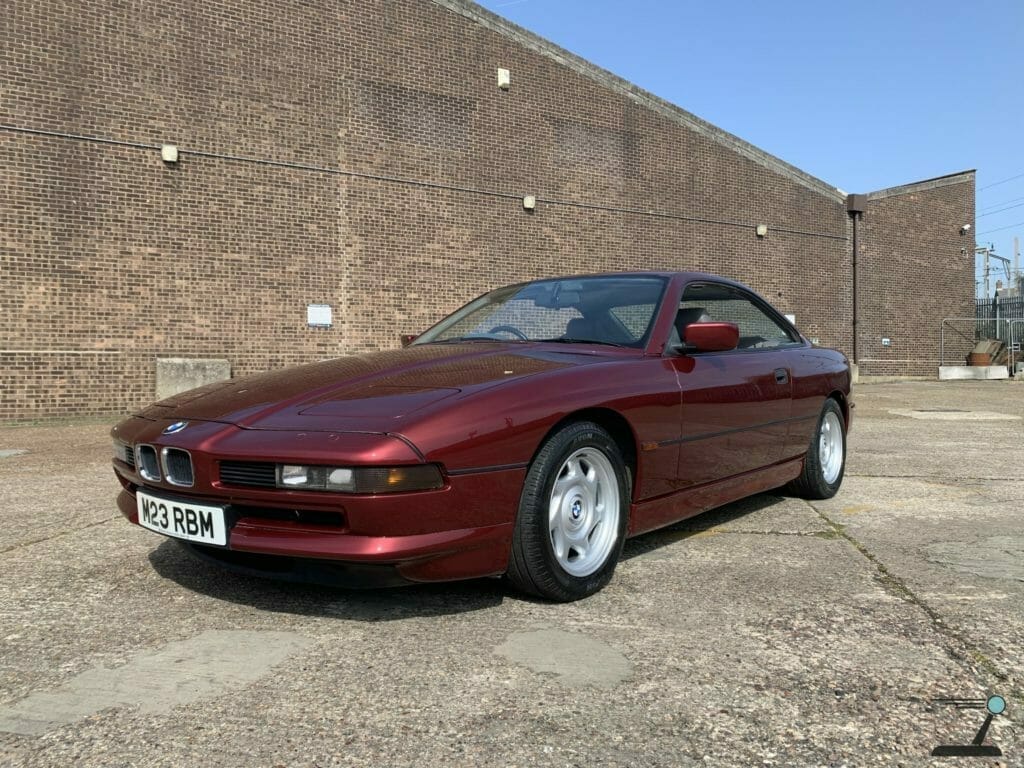 STORY
It was bought by the BBC production team in 2011 for a Top Gear feature about Britain's cheapest new car which was a £5995 Kia. Could the presenters buy anything more interesting? Richard Hammond picked this car. At the time I the Car had about 50k on it and it was a solid example.
The moments most people remember are the 'ruched' leather that Clarkson teases Hammond with and the fact the BMW is hopeless in the drag race against the Mercedes SL600 with a much bigger 6.0L engine! Shock!
After filming, the cars that are unmodified are usually sold on to friends of the Production team but as this was such a nice car it was kept. Two of the Producers used it as their daily car for a couple of years – one of them even moved house with it! Which shows you how much stuff they had! But then it developed an engine fault only firing on 6 cylinders so it was laid up near Dunsfold.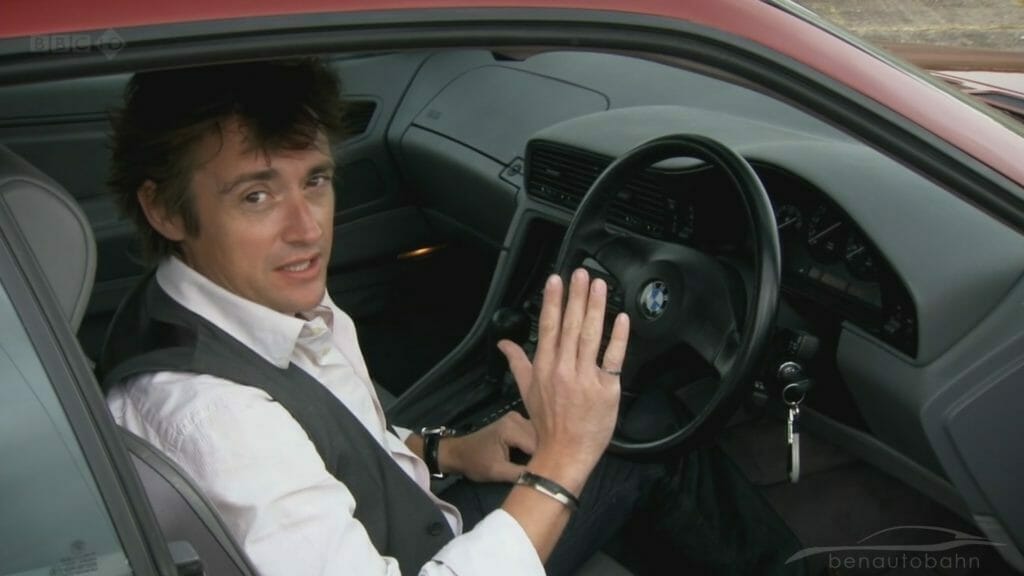 picturecredit: https://benautobahn.com/index.php/2011/10/24/top-gear-season-17-episode-3-review/
THE RESTORATION
The owner used to tinkering with cars myself but usually old Volkswagens and Porsches so he admitted to himself that the 8 is not that kind of car. Plus he didn't want to break it. He took it to BMW 8-series specialist Chris Burton in Surrey who fortuitously happens to be about 20 miles from Dunsfold!
The first thing Chris did was offer to buy the car. To see such a low mileage example is a rare thing. He replaced both fuel pumps and did a full service on the car, including replacing the radiator which had a hairline crack in the reservoir. It ran beautifully and sailed through its first MOT for 10 years!
the owner couldn't wait to get it on the road. Since then he has been slowly restoring it. Chris got the sunroof working and replaced the entire headliner at the same time. He has also had the On Board Computer restored.
His original plan had been to put larger 17" BMW throwing star alloys on the car but since then he has fallen in love with the smaller "sofa castor wheel" alloys as Clarkson called them. He had them professionally restored with brand new centre caps. They give it a beefy muscle car look, plus it's original and he is a bit of a stickler for originality.
As you see in the episode the car had an original 90s car phone installed. This had been taken out of the car when he got it but he still has it and it will be sold with the car.
DRIVING
The owner was never a BMW man. He didn't expect to love driving it as much as he does now. It's like driving a train, effortless power so smoothly delivered. And it drives like a new car, everything feels so tight.
The dynamic suspension can be manually switched from Komfort to Sport and it makes a massive difference in cornering. If you pair that with Sport mode it becomes a completely different car, with more responsive throttle and revvy gearbox.
……….
| | |
| --- | --- |
| Year | 1994 |
| Make | BMW |
| Model | 850 CI |
| Colour | Calypso Red |
| Horsepower | 326 PS |
| Kilometers | 61720, miles |
| Location | Colcheste, Essex, England |