Cal Look Beetle
Nut&Bolt restored
160+ PS
Magazine Feature
In the dynamic world of automotive culture, few icons resonate as profoundly as the California Look, a distinctive styling approach that has left an indelible mark on Volkswagen Beetles. This unique aesthetic, born on the sun-soaked streets of California in the 1960s, has transcended decades, becoming a cherished subculture within the larger Volkswagen enthusiast community.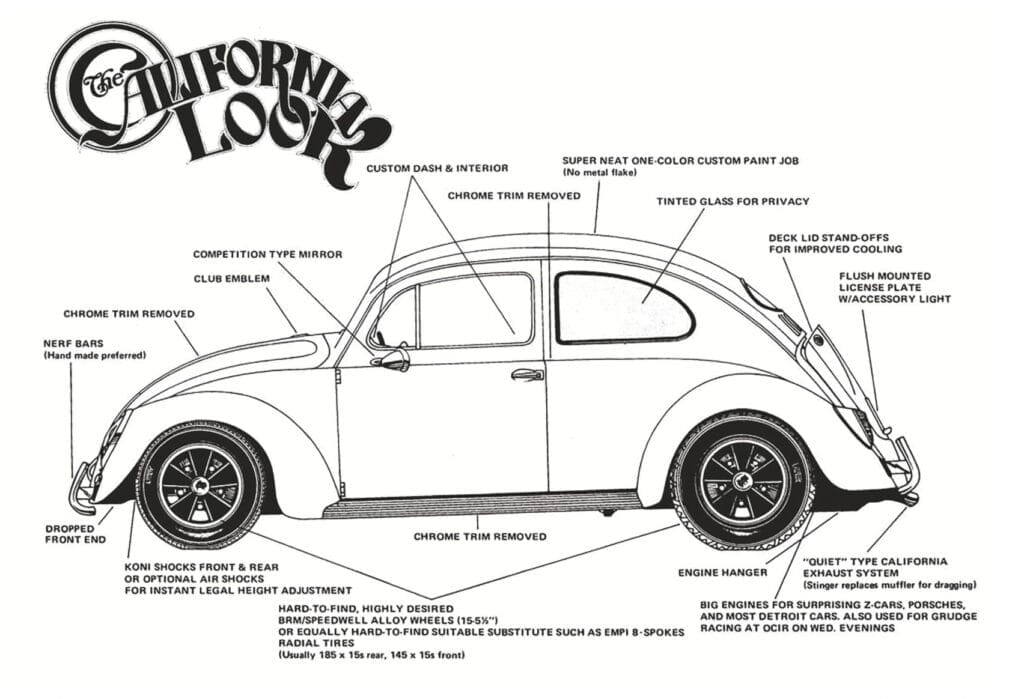 Cal Look Beetles are not just cars; they're a vibrant expression of personalization and style. Rooted in the philosophy of simplicity and performance, these iconic Bugs boast lowered stances, clean lines, and a minimalist vibe that captures the essence of the West Coast lifestyle. The ethos behind the Cal Look is a seamless fusion of form and function, where aesthetics enhance performance rather than overshadow it.
From shaved bumpers to the absence of external handles, every modification serves a purpose, creating a streamlined and sleek appearance. The quintessential Cal Look Beetle is a testament to the belief that less is more, epitomizing a clean and purposeful design that stands the test of time.
The heart of these modified Beetles often beats with a spirited air-cooled engine, tuned for performance and reliability. The roar of a Cal Look Bug cruising down the boulevard is not just a sound; it's a symphony of nostalgia, invoking the spirit of an era when customization was an art form and the open road beckoned with endless possibilities.
What makes the Cal Look Beetle phenomenon enduring is its ability to evolve while staying true to its roots. Enthusiasts continue to push the boundaries of creativity, integrating modern elements without diluting the essence of the original movement. From wheel choices to interior upgrades, each modification is a brushstroke on the canvas of automotive expression.
In the realm of automotive journalism, exploring the allure of Cal Look Beetles is more than recounting a trend—it's a journey into a subculture that has seamlessly blended aesthetics, performance, and the unmistakable spirit of California cool. These Beetles are not just cars; they're rolling pieces of art that encapsulate an era, an attitude, and a passion for the road less travelled.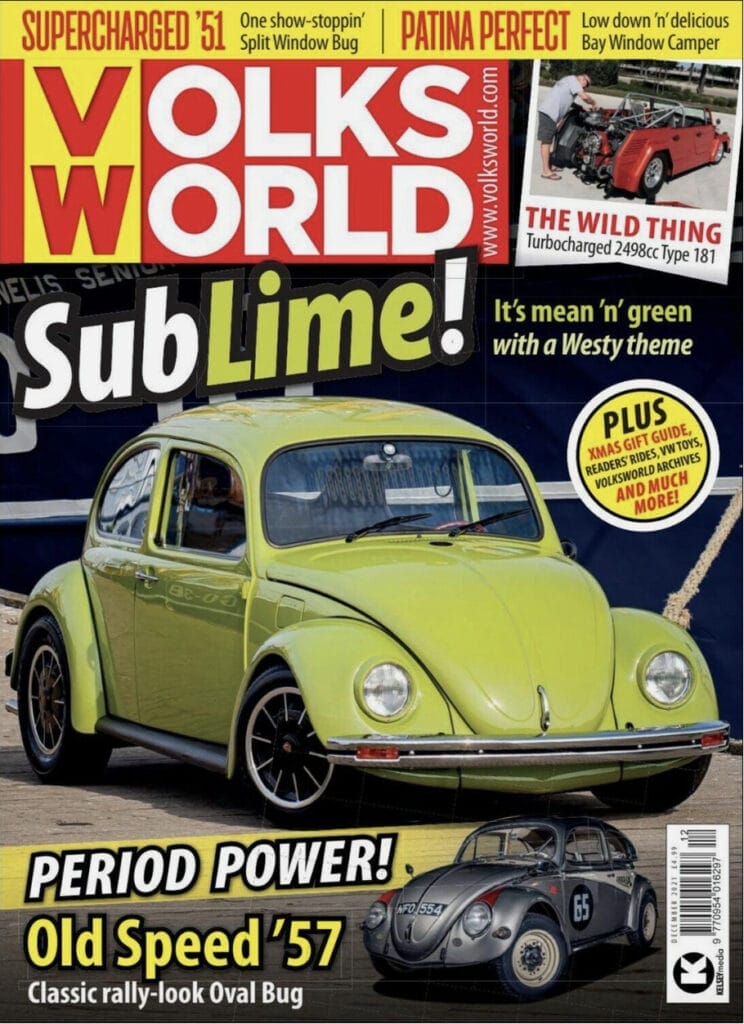 This 1972 VW Callooker Bug was fully restored and was just featured at Volksworld Magazin.
In the world of automotive restoration and customization, there are projects that stand out not just for their visual appeal but for the sheer dedication and craftsmanship invested. The metamorphosis of this Volkswagen is a prime example, a collaborative effort that marries precision engineering with an artistic touch.
HB van Kranen, a master of the welding torch, undertook the meticulous process of stripping the body down to its essence. Embracing a labor-intensive approach, fresh metal was seamlessly integrated, breathing new life into this classic. The laundry list of enhancements includes new rockers, side panels (genuine VW originals), a spare wheel well, Napoleon's hat, rear panel, and more – each carefully welded into place.
The canvas was then handed over to Spuiterij van Lint, professional in the art of automotive painting. The body, both inside and out, received a lustrous coat in the iconic VW colour Sage Green/Taiga Grun. The result is not just a paint job; it's a symphony of hues that pays homage to the Volkswagen heritage.
Details matter, and in this transformation, they speak volumes. One-piece windows not only enhance the aesthetics but, in a testament to craftsmanship, work seamlessly without a hint of leaks. The addition of a Talbot Berlin mirror and Talbot rearview mirror adds a touch of nostalgia, linking the past with the present.
Beneath the meticulously restored exterior lies a chassis that has undergone its rejuvenation. Blasted and painted in gloss black, it serves as the solid foundation for an upgraded braking system featuring Porsche 944 front disc brakes and a Hurst line lock for added control. The rear brakes maintain their stock integrity, ensuring a harmonious balance.
Powering this automotive masterpiece is a new Rancho Pro Street gearbox, boasting a long 4th gear and paired with a CSP short shifter for precision control. The beating heart is a new engine meticulously crafted by the skilled artisans at VW Airhouse. A 2110cc powerhouse, with specs including 76x94mm, Weber Ida, ported heads, lightened flywheel, Petronix ignition, and more – a testament to the meticulous attention invested. With 163 horsepower and 216 Newton-meters of torque, this engine not only runs smoothly but pulls with exhilarating force.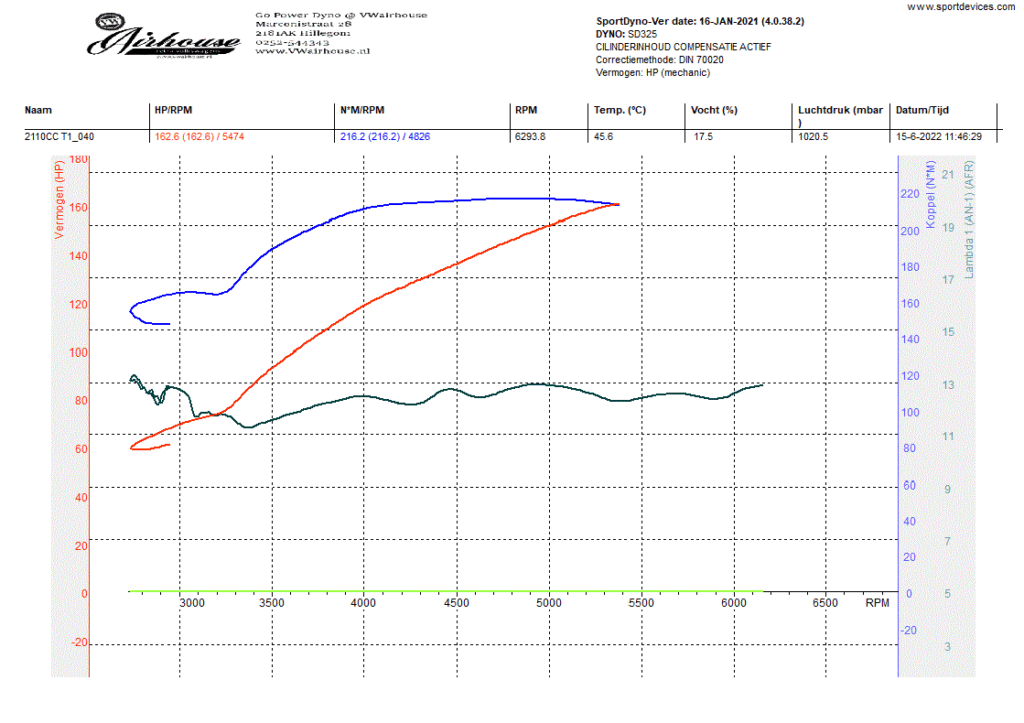 In the intricate dance of restoration and enhancement, this vintage Volkswagen emerges as a work of automotive art. It's a testament to the skilled hands and discerning eyes that breathed new life into every component, creating a harmonious symphony of power, style, and nostalgia on wheels.
Inside the Cocoon of Elegance:
Step into the meticulously curated interior of this automotive gem, where every detail reflects a blend of sophistication and performance. Crafted by JGE Upholstery from Hulst, the bucket seats and door panels are a testament to artistry, upholstered in a striking combination of black and Westfalia fabric. The racing spirit comes alive with Crow Racing seatbelts, where the red labels have seamlessly given way to matching orange ones.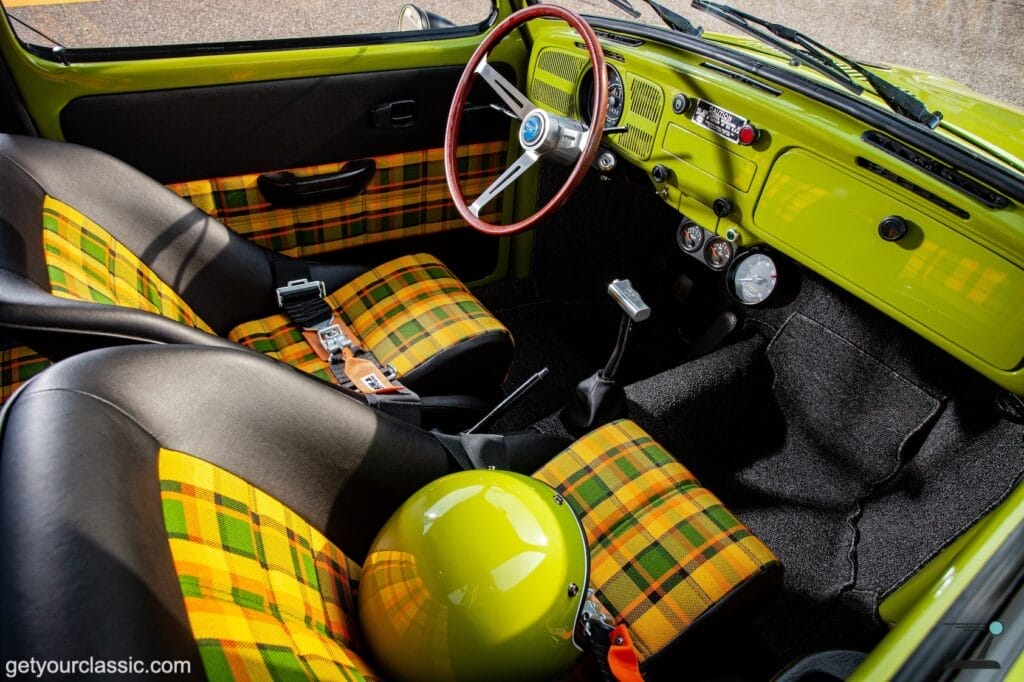 A plush carpet from TMI in a tasteful grey hue lays the foundation, complemented by a sleek black headliner that adds a touch of refinement. The driver's domain is adorned with precision instruments, featuring an Autometer tachometer and VDO oil temperature and pressure gauges. The Repro Flat 4 steering wheel sits at the helm, combining vintage charm with contemporary functionality.
Underneath the stylish surface lies a powerhouse of efficiency – an Optima Yellow Top battery equipped with a ground switch, ensuring a reliable and controlled power source. This interior not only embodies comfort but serves as a cockpit for performance enthusiasts.
This exceptional car has garnered attention on the grand stage, gracing the cover of Volksworld magazine and earning a prominent feature in Airmighty magazine. It stands as a stellar example of a meticulously built late-model Cal Look car, embodying the essence of cleanliness, speed, and precision. The commitment to excellence is evident – no expense has been spared in this remarkable build, with an investment exceeding €30,000. It's more than a car; it's a symphony of style, performance, and meticulous craftsmanship that elevates it to a league of its own.
Cover the Insurance with our Partner and only pay. Calculate it here
The vehicle description is provided to the best of the seller's knowledge and belief. We at Getyourclassic use our experience to work with the seller to provide a correct and accurate vehicle description. However, the bidder must satisfy themselves as to the accuracy of the description and make all necessary enquiries before placing a bid. Our General Terms and Conditions apply exclusively.
All brands, trademarks and protected designations mentioned are the property of the respective legal owners and are only mentioned because they are either part of the article or represent an unmistakable quality feature of the article.
Additional Note:
A Getyourclassic Car Specialist is working as an agent on behalf of the owner for this vehicle.
Contact: Michael Gross
Phone: +49 176 624 33453
| | |
| --- | --- |
| Year | 1972 |
| Make | Volkswagen |
| Model | Beetle, Cal Look |
| Displacement | 2110 |
| Horsepower | 160+ |
| Location | Netherlands, Melissant |