Mercedes Benz 350 SL W107 "Zender"
original tuning by Zender
project Car
rare 80ties style
Reserve price Not met!
Auction expired without reaching reserve price
In April 1971, the Type 350 SL was presented, a new sports car that replaced the Pagoda SL that had been built since January 1968. Technically, the new model was a completely new development that had virtually nothing in common with its predecessor. However, basic components had already been used in other Mercedes-Benz models: The front and rear suspension basically corresponded to the design used in the "dash eight" models, and the V8 engine had been used by the 280 SE 3.5 saloons, coupés and cabriolets.
When the W 107 series was launched in 1971 as the successor to the so-called "Pagoda" (Mercedes-Benz W 113), Friedrich Geiger initiated a new design line at Mercedes with the wide-band H4 headlights and the large fluted taillights.
A slight wedge shape indicated improved aerodynamics.
The SL owed its popularity to its reliability and robustness!

80s Tuning by Zender for the R107 350SL
You can tell a lot about Zender. Zender was always far ahead of his time, not even shying away from prototype construction. He also designed this body kit for the SL-Class R107.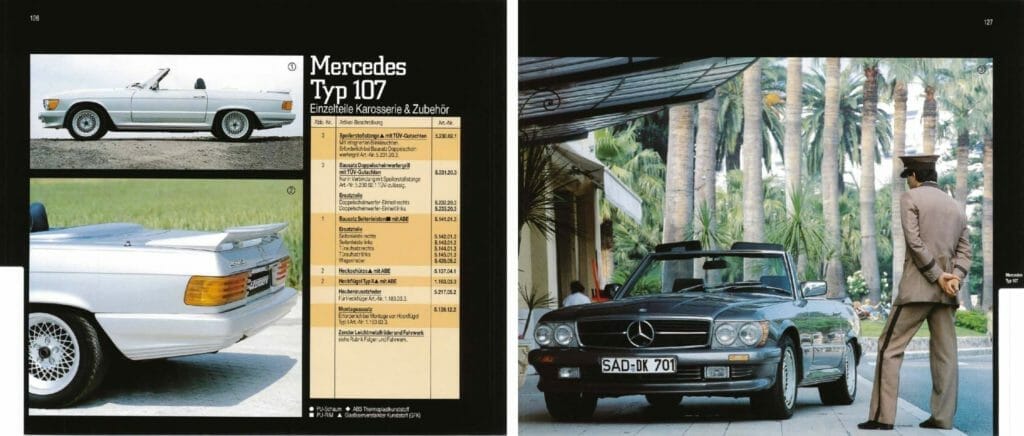 In 2008, Zender GmbH decided to withdraw from the tuning business.
This 350 SL is one of those typical `80s modified MErcedes done by Zender.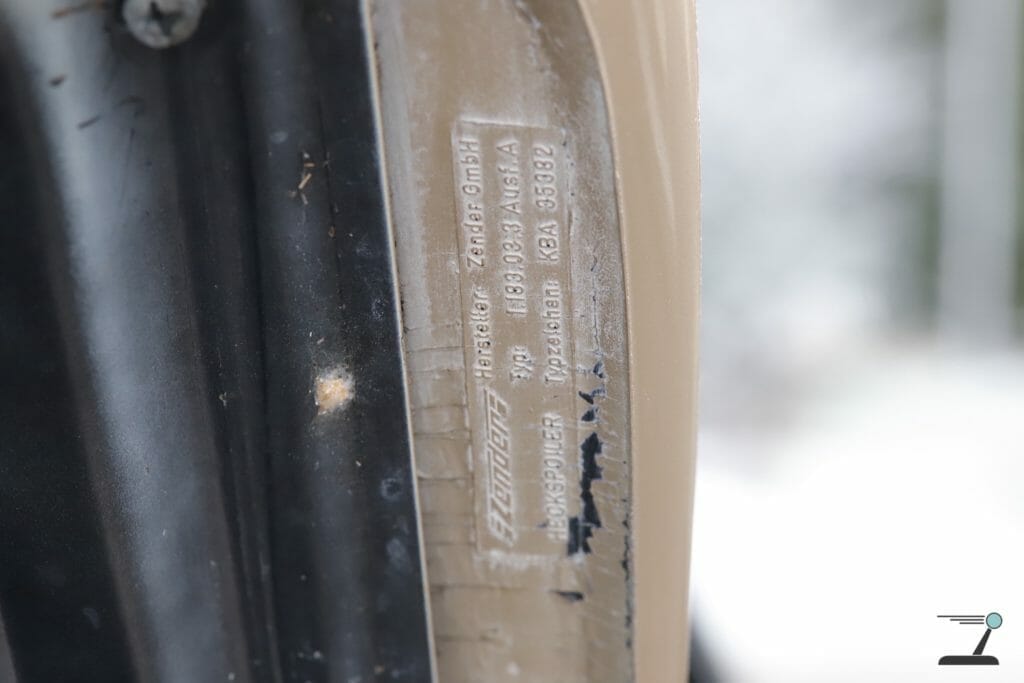 The SL was delivered new in the colour combination of sand beige metallic with Olive green Interior.
It seems that it was straight delivered with the Zender W 107 Kit. The Car stood years in a barn and shows the typical scars and spots of usage.
The Olive green Interieur needs to be overhauled, detailers say that except the necessary cleaning, most spots can be repaired and it might be worth it to keep it original.
The chassis has its typical spots which need to be welded and chassis, bushings, hoses should of course be checked after the long period of standing.
The engine turns but needs to be completely serviced.
The all over impression of this SL shows that this is a good project car. Its condition is not too bad, but almost everything needs to be touched.
This is a rare opportunity to own a real 80ties tuning Car.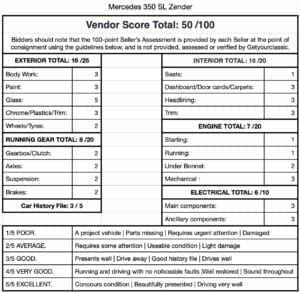 Cover the Insurance with our Partner and only pay € 158,-/per anum. Calculate it here
The vehicle description is provided to the best of the seller's knowledge and belief. We at Getyourclassic use our experience to work with the seller to provide a correct and accurate vehicle description. However, the bidder must satisfy themselves as to the accuracy of the description and make all necessary enquiries before placing a bid. Our General Terms and Conditions apply exclusively.
| | |
| --- | --- |
| Year | 1972 |
| Make | Mercedes Benz, Zender |
| Model | 350 SL W 107 |
| Engine | V8 |
| Displacement | 3499 |
| Horsepower | 230 |
| Kilometers | 194824 |
| VIN | 107.043.12.005764 |
| Location | Sweden |
| Guide Price | 11000-13000 |
Total Bids Placed:
Auction has expired
Auction expired without reaching reserve price
Highest bidder was: W116-Club
Bidder Name
Bidding Time
Bid
Auto
W116-Club
11. December 2021 12:26
5.100,00

€

throttleout
8. December 2021 11:35
3.500,00

€

W116-Club
4. December 2021 12:56
1.500,00

€

Auction started
3. December 2021 20:00
Buyer's Premium
| | |
| --- | --- |
| Buyer's Premium | 9.6% of Winning bid. |