Porsche 911 Turbo
At the time of its market launch, it was the fastest production car in the world and the flagship of the car manufacturer Porsche.
'The new engine turned out to have enormous marketing power. It became a real status symbol to have that little word 'turbo' on your rear deck, and this fashion spread right across the motor industry.' – Peter Morgan, 'Original Porsche 911'.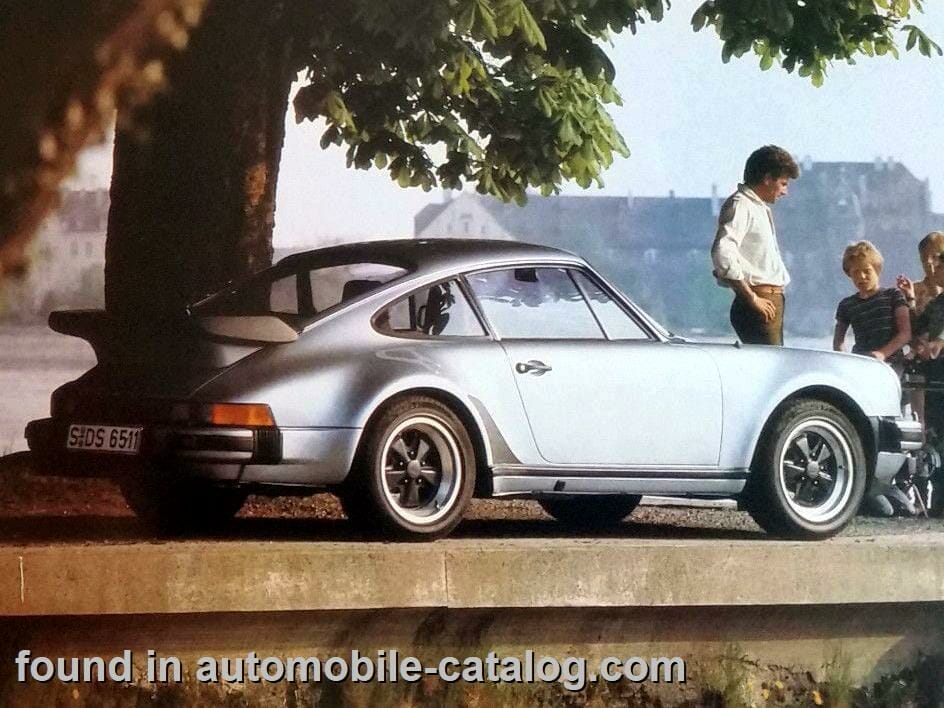 Much of the Porsche 911's development had resulted from the factory's racing programme, and it was the then Group 4 homologation rules, which required 400 road cars to be built, which spurred the development of 'Project 930': the legendary 911 Turbo. In production from April 1975, the Type 930 Turbo married a KKK turbocharger to the 3.0-litre RSR engine, in road trim a combination that delivered 260bhp for a top speed of 250km/h (155mph). But the Turbo wasn't just about top speed, it was also the best-equipped 911 and amazingly flexible – hence only four speeds in the gearbox – being capable of racing from a standstill to 100mph (160km/h) in 14 seconds.


The Turbo's characteristic flared wheelarches and 'tea tray' rear spoiler had already been seen on the Carrera model while the interior was the most luxurious yet seen in a 911, featuring leather upholstery, air conditioning, and electric windows.
The Turbo's engine was enlarged to 3.3 litres for 1978, gaining an inter-cooler in the process; power increased to 300bhp and the top speed of what was the fastest-accelerating road car of its day went up to 257km/h (160mph).
This Porsche 930 Turbo was produced on the 30th of April in 1982 in Zinnmetallic and sold on the 10.06.1982 through Brugs Motoren in Brugge to the current owners Family.
It is one of 888 built and underwent a recent restoration. Engine and Transmission was completely overhauled. On the outside the Car got a new coat of paint in the original Zinc Metallic.
The Turbo had one registered owner who drove it for only 61.730 km. It was never involved in an accident and was always maintained and serviced.
This is your chance to be the next owner of an original, matching numbers, one owner Porsche Turbo.
Cover the Insurance with our Partner and only pay € 500,-/per anum. Calculate it here
The vehicle description is provided to the best of the seller's knowledge and belief. We at Getyourclassic use our experience to work with the seller to provide a correct and accurate vehicle description. However, the bidder must satisfy themselves as to the accuracy of the description and make all necessary enquiries before placing a bid. Our General Terms and Conditions apply exclusively.
| | |
| --- | --- |
| Year | 1982 |
| Make | Porsche |
| Model | 930 Turbo |
| VIN | WPOZZZ93ZCS000832 |
| Colour | Zinc Metallic / 956 |
| Engine | flat 6 |
| Displacement | 3300 |
| Engine Number | 67C0868 |
| Horsepower | 300 |
| Kilometers | 61.730 km |
| Location | Belgium, Stavelot |
| Guide Price | € 130.000 – 150.000 |
Talk about it
---
How was it determined that there were only 888 built? I am also the owner of an original 1982 Turbo 930, exact same vehicle but number is 907. I think they may have produced <1,000 but question the accuracy of the 888 number.
Hi – can you pls provide some more information about technical situation of the 930, optical things like interior and history?
I am located in Germany and would be happy to have a more detailed look on this beauty.
We can speak in english and german language.
Best, Ralf
Hallo @Ralf Jourdan schreiben Sie doch eine mail an info@getyourclassic.com dann können wir über den Turbo sprechen.