Bid in just a few steps!

1. Register for free
Sign up for free on Getyourclassic.com to bid. No hidden costs or fees.

2. Add Payment infos
In order to bid you must deposit your credit card details. This ensures high security for all.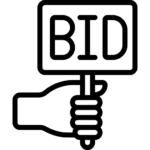 3. Start bidding
And you can start bidding on Getyourclassic.com. Check out our current auctions.
---
Bidder Questions
How do I register to bid?
You can register to bid by entering your information on the Login Page.
Why do you need the telephone number?
As one of our innovative Services, we need your telephone number to send you instant updates about Bids place, Outbid or won Auctions directly to your mobile phone.
How does bidding work?
You simply type in the amount you would like to bid. If it's higher than other bids, you become the high bidder. Bidding is raised immediately to your entered amount. The bid you place will become the new high bid. If you win the auction this is the price you will be responsible for paying to the seller.  Additionally to this amount, a 9.6 % Sales Provision for GyC is transferred from your Bank Account.
Where do I get auction updates?
You can subscribe to receive email auction updates by using our Newsletter or by clicking the"adding to the watchlist" Button.
Why do you need my telephone number?
We created a special Textmessage Service for you. You recieve instand updates directly on your phone about Bids placed, if you were outbid or if an auction is ending soon.
If I want to bid on a Car. Where can I find the relevant details?
Read the listing and the details of the Car as well as the comments and insights offered by members of the Community.  Ask your questions via the comments section. Do so prior to placing a bid.
What happens after I win an auction. How does payment work?
The 9.6% buyer's fee is paid via the buyer's Bank details on file when the auction close. At  close of the auction, the winning bidder and seller will receive each other's contact information via email to make payment and pick-up arrangements to finalise the deal.
What happens if the reserve is not met during an auction?
If the reserve is not met, the highest bidder and the Seller will recieve their contact Details and have the chance to work out a deal.
How much is the buyer's fee?
If you win an auction we charge 9.6% of the final bid price, with a minimum fee of €250.
How does shipping work?
The buyer has to arrange the Shipping. We have a couple of partners that we can recommend and assist you to find the right partner. If you have questions for shipping send us an email to shipping@getyourclassic.com.
Which payment do you accept?
We need your Credit Card for payment of the Sales Commission. For the final payment of the Car, you work out with the seller what is best for you.
Can I bid if I'm not in Europe?
Sure! So long as you have registered with valid bank details, you can bid from anywhere.
Why does the clock keep resetting?
It's common in online auctions for buyers to use special software to enter a bid in the very last seconds of the auction to outbid others without giving them a chance to respond. During the last 2 minutes of Getyourclassic Auctions, the clock resets to 2 minutes after every bid. This happens until no more bids are placed and the auction ends. This gives everyone a chance to place their bids and gives sellers a chance to sell to the true high bidder.
Is there a possibility to cancel my bid?
Please be very careful when placing your bid. We do not cancel bids on the site.
Can I find out if an auction has a reserve?
If a car is offered at No Reserve, we do announce it by putting that information in the listing title. Other than that we do not communicate the reserve.
Where can I find the estimated Price?
All offerings through Gyc are without Estimated Prices. We do not like this Game of traditional Auctions.  Do your research and find the correct price for yourself. Read the Listing carefully and listen to the Comments of the Community to find the right value for yourself. If you then wish to be the new owner, make sure you're the high bidder!
How can I inspect a car?
We encourage all potential bidders to inspect a car prior to placing a bid. If you would like to inspect a car or have it inspected, Contact the Seller via the Comments Box.
How do I register to bid?
You can register to bid by entering your information on the Login Page.
I want to be added to the GyC Photography Network, how do I do that?
Drop us a line here at Photographer for GyC
How do I tag a user in a comment?
Good question! You can tag a user by typing the "@" symbol followed by the username you want to tag. For example, if you wanted to tag user "getyourclassic" you would type "@getyourclassic". Doing so will notify that user that they have been tagged in a comment.
How do I get in contact with you?
You can email us at hello@getyourclassic.com with general questions that you can't find answers to here. If you'd like us to consider your car for an auction, you can submit it to the site here.