Citroën 2CV Club
fully restored
fully calvanized frame
fully reliable
19.900,00€
Citroën 2 CV
The Citroën 2CV (French: Deux chevaux), usually called Ente in Germany and Austria and Döschwo in Switzerland, was a popular model of the car manufacturer Citroën with an air-cooled two-cylinder four-stroke boxer engine and front-wheel drive.
Citroën director Pierre-Jules Boulanger commissioned designer André Lefèbvre in 1934 to develop a minimalist small car with the following requirements:
"Design a car that has room for two farmers in boots and a hundredweight of potatoes or a barrel of wine, is at least 60 km/h fast and uses only three liters of gasoline per 100 km. It should also be able to handle even the worst roads and be so easy to operate that even a novice driver can handle it without any problems. It must have exceptionally good suspension, so that a basket full of eggs can survive a trip over bumpy country roads unscathed. And finally, the new car has to be much cheaper than our 'Traction Avant'.
The appearance of the car is not important at all."
Due to the war, the first 2CV was not presented to the public until October 7, 1948 at the Paris Motor Show.
Between the summer of 1949 and mid-1990, 3,868,631 four-door sedans and 1,246,335 vans ("box duck") were produced.
Initially ridiculed by the trade press, the 2CV became one of the best-known car models in France over the following decades.
The 2CV was the basis for the Citroën models Dyane, Ami and Méhari.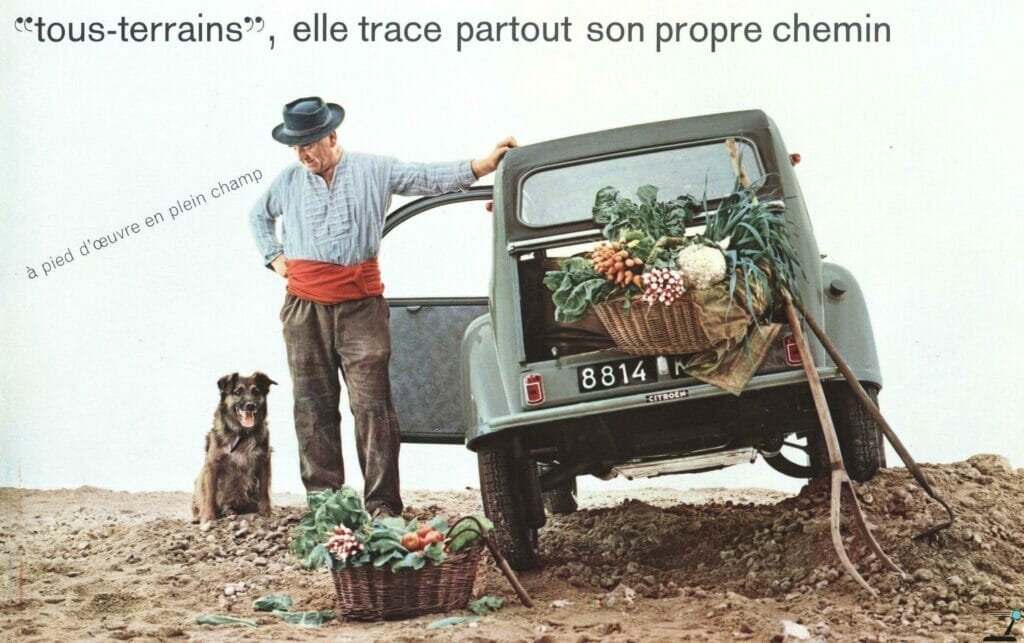 This offered 2CV from 1988 was rescued by the current owner from the estate of an old lady who was the 1st owner.
The current owner decided to restore the duck without compromise to eradicate all known weaknesses.
For this purpose, for example, the entire frame was fully galvanized.
This red 2CV appears in brilliant condition with no rust comming through. The engine starts right up, runs smooth and the gearbox does it`s perfect job. The chassis had been sealed and all the electric works fine. This 2CV is a very reliable french timepiece.
See the video of this red beauty:
See an excerpt of the work in 2021/2022 here:
-123-ignition electr. ignition incl. adjustment
– new ignition coil
-new spark plugs
-new air filter insert
-new oil filter with oil change
-various axle boots renewed
-new LHM fluid brake
-overhauled front left swing arm, incl. bearing and kingpin
-new Michelin tires 5x (customer request)
-new bulkhead insulation interior
-new engine hood insulation
-new painted heat exchanger
-new heater hoses engine compartment
-battery pole disconnect switch
-new front left door rubber
-right outside mirror additionally (customer request)
-New roll roof gray
-new exhaust rubber
-rep. sheet metal to weld in wheel arch rear left, rubber buffer admission
-rep. sheet metal to weld in front right fender, splash guard
-valves adjusted and new valve cover gaskets
-Valve cover painted
– Vehicle completely painted in Rouge Vallelunga and bumpers,rims
and lamp holder in Gris Roues
– new lamp holder feet left/right
– Engine compartment cleaned
-Cavity preserved with Fluidfilm, underbody/wheel arches preserved with
Mipa wax brown-transparent
– new bumper horns and corners plastic, front & rear
-chrome trim roof rails new
-New front mud flaps
-various new screws
-new trim tape
– new wiper blades
-wiper arms painted
-window openers painted
– new plastic trim roof struts
-new sun visors left/right
-new radiator grille
-new exterior mirror surround left
-new emblems
-new hinge end corners left/right trunk
– window support bar left/right
-various new rubber parts
-various add-on parts in engine compartment painted
-new bracket for relay box on battery
-main inspection with AU and H-acceptance
Convince yourself with the pictures and place your bid.
Never be afraid again that your basket full of eggs survive a trip over bumpy country roads unscathe
Cover the Insurance with our Partner. Calculate it here
The vehicle description is provided to the best of the seller's knowledge and belief. We at Getyourclassic use our experience to work with the seller to provide a correct and accurate vehicle description. However, the bidder must satisfy themselves as to the accuracy of the description and make all necessary enquiries before placing a bid. Our General Terms and Conditions apply exclusively.
| | |
| --- | --- |
| Year | 1988 |
| Make | Citroën |
| Model | 2CV |
| Colour | red "rouge vallelunga" |
| Engine | flat 2 |
| Displacement | 597 ccm |
| Horsepower | 27 |
| Kilometers | 71.000km |
| Location | Bonn / Germany |