Ferrari 400i
Ex Didier Pironi
One of 883
Austrian Registration
In late 1979, Ferrari introduced a third iteration of their grand four-seat model originally launched as the 365 GT4 in 1972.
The 4.4-litre 365 GT4 had evolved to become the 4.8-litre 400 in 1976. Although it came with an enlarged engine and an array of cosmetic updates, the 400 was perhaps most memorable because it marked the arrival of an automatic gearbox option which had never previously been offered to customers.
This latest version, the 400i, most notably came with a fuel-injected V12 instead of a traditional bank of six sidedraught Weber carburettors.
The 400i was the first production Ferrari to be equipped with fuel-injection; over the next couple of years, Ferrari also went on to replace its carb-fed Flat 12 and V8-engined models (the BB and 308) in a similar fashion.
Ferrari was neither the first nor the last high end European manufacturer to make the switch to fuel-injection. Porsche had begun to use the system for their production cars in 1972 while the likes of Mercedes-Benz and Maserati had done so way back in the 1950s.
By contrast, although Lamborghini and Aston Martin had already added injection systems to their cars sold in the USA (and some other markets), they didn't drop carburettors for their most potent variants until 1990.
Ferrari turned to Bosch to supply a suitable system; the German firm's eponymous K-Jetronic installation was the benchmark in mechanical fuel-injection. It gave a smoother power delivery, was easier to maintain and helped greatly when it came to reducing emissions.
Photo copyright: Ferrari – https://www.ferrari.com
Production continued until early 1985, by which time 1305 examples of the 400i had been completed.
This figure comprised 883 cars equipped with the automatic transmission (171 of which were right-hand drive) and 422 with the manual gearbox (32 of which were right-hand drive).
Considering the 400i was frozen out of Ferrrai's biggest market (the USA), these were pretty impressive figures.
A replacement, the 412i, was launched at the Geneva Motor Show in March 1985.
400i chassis numbers ranged from 26667 to 55523.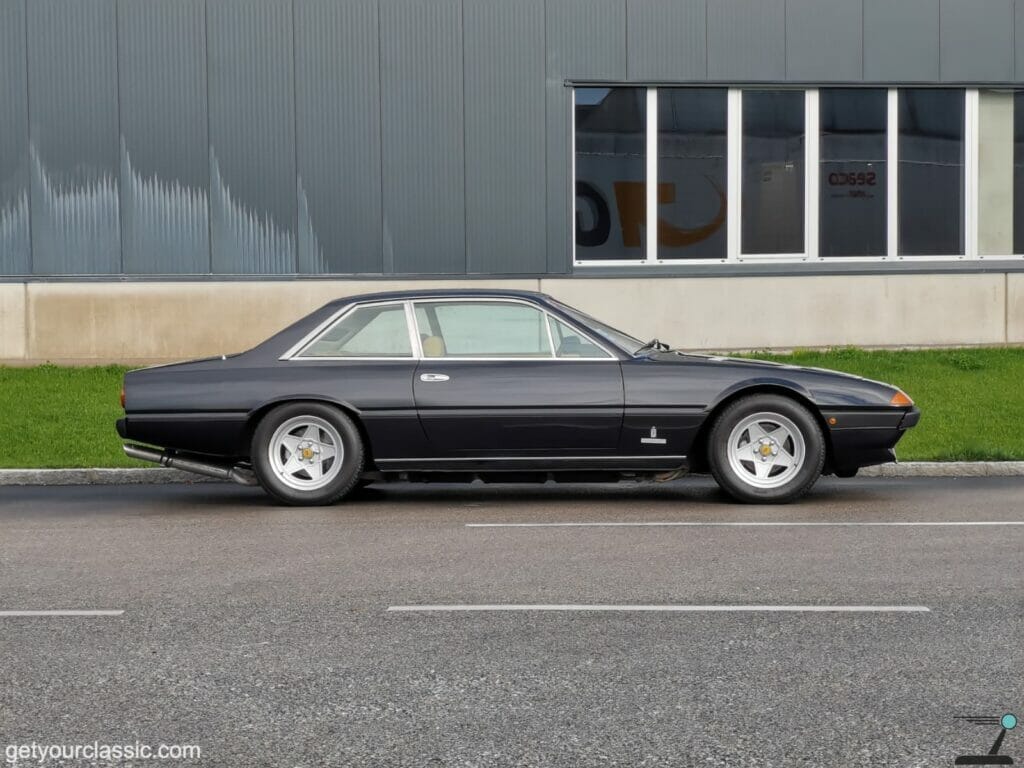 This Ferrari 400i was sold in April 1980 via the Paris Ferrari dealer Ch. Pozzi in Paris to the then Formula 1 driver Didier Pironi. Pironi was still driving for Tyrell in 1980. One year before he signed with Ferrari.
The Ferrari is one of 883 that was delivered with an automatic gearbox. It stayed in France for 20 years until it was sold to Portugal in 2001. There it was driven for another 17 years before it was sold to Austria in 2018. Here it was registered as a classic car.
The Ferrari is in good condition. There are many invoices and the old number plates from France and Portugal.
The speedometer currently shows almost 45,000 km. However, this is more likely to be 145,000.
Der UK motoring journalist L. J. K. Setright wrote in August 1984 about the 400i: "one of the few most beautiful, and one of the two most elegant, bodies ever to leave the lead of Pininfarina's pencilling vision".
The vehicle description is provided to the best of the seller's knowledge and belief. We at Getyourclassic use our experience to work with the seller to provide a correct and accurate vehicle description. However, the bidder must satisfy themselves as to the accuracy of the description and make all necessary enquiries before placing a bid. Our General Terms and Conditions apply exclusively.
| | |
| --- | --- |
| Year | 1980 |
| Make | Ferrari |
| Model | 400i |
| Engine | v12 |
| Displacement | 4800 |
| Horsepower | 310 |
| Location | Vienna / Austria |
| Guide Price | € 59.000 – 74.000 |