The Italian carmaker debuted its radical Testarossa as a successor to the popular 512 BBi at the 1984 Paris Motor Show. The name means "red head" and was a throwback to the famed sports racing 250 Testa Rossa of the late 1950s.
The night before the Motor Show on October 2nd 1984 Ferrari presented the Ferrari Testarossa in Paris, at the Lido Club on the Champs Elysees and one day later at the Paris Show at Porte de Versailles.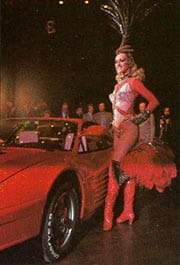 The normal production of the Testarossa started in July 1984 and ended in late 1991.
The total production was 7177 cars, with serialnumbers in the range of 53081 to 91923.
It took until mid-1985 before the first US-version Testarossas arrived in the USA. Due to high prices and the long waiting list (two to three years!) an additional 150 to 200 Testarossas were imported in the USA as "gray market" cars, which were European versions converted to meet the USA regulations.
The most recognizable features of the reborn Pininfarnina-styled Testarossa were the deep horizontal strakes that ran the length of both doors, feeding air into the side-mounted radiators. The world had never seen such a car, and it polarized those who saw it.
The Power for the Testarossa came from a mid-mounted, 4.9-liter, 48-valve, flat-12, which produced 380 horsepower and 361 ft-lb of torque. Big ventilated disc brakes completed the mechanical package.
Even at 3,700 pounds, the Testarossa was a nimble, forgiving machine, and the motoring press praised it for its road manners.
After more than 7,000 cars had been built, production concluded at the end of 1991, and the Testarossa gave way to the 512 TR.
This Car is one of the 452 Cars that were produced for the American Market in 1990. It was delivered in Rosso Corsa with black leather Interior.
Here you see a Video with the cold engine starting.
Unfortunately, when the Car was loaded backwards, the front hood was open and got bent forwards. The damage is minor and an easy fix but gave the owner the decision to sell the Car.
The Car appears to be in first paint. The Interior shows since of usage, especially the drivers Seat.
The Ferrari is sold without Tax, so if you are a private party, the Tax needs to be added.
The vehicle description is provided to the best of the seller's knowledge and belief. We at Getyourclassic use our experience to work with the seller to provide a correct and accurate vehicle description. However, the bidder must satisfy themselves as to the accuracy of the description and make all necessary enquiries before placing a bid. Our General Terms and Conditions apply exclusively.
| | |
| --- | --- |
| Year | 1990 |
| Make | Ferrari |
| Model | Testarossa |
| Colour | Rosso Corsa |
| Engine | 4.9-L H12 DOHC 24V |
| Horsepower | 390 |
| Location | Holland, Neer |
| Guide Price | € 67.000 – 70.000, Netto |
Talk about it
---
Hello, can you upload a cold start video? Kind regards