Fiat/Giannini 590 GT
ASI Gold
original Giannini 590
rare tuning Fiat
22.000,00€
Giannini was a Rome-based car tuner that specialised in the Fiat 500. Just like Abarth had the 595/695 SS, Giannini had the 590 GT. 
The GIANNINI 590 GT is born in 1964. The engine of the Fiat 500 is reamed in 586 cc and can give 31 hp. GIANNINI wanted to rival the most important opponent Abarth. The factory based in Torino built the 595 since 1963 and reached 27 hp. However, the scorpion's factory deviated the 595 in elaborated versions SS and also a 595 SS Assetto Corsa.
The 590 GT features a modified cylinder head, compression ratio 8.5:1 all ports are enlarged and ground, stroke increased to 77.5 mm, crankshaft modified and balanced with lightened timing and 30°-70°/70°-30° diagram. Solex C28 1B2 carburettor. Optional features include ventilated wheel rims, monogram fan, sport tachometer, short gear ratios, 8/39 axle ratio, and even front disc brakes. Aluminium tappet cover with Giannini lettering.

As an option, there are aluminium wheels, monograms and set of initials, sports dashboards, shorts conic couples and also front disc brakes.
Here you can see the old Fia Homologation Papers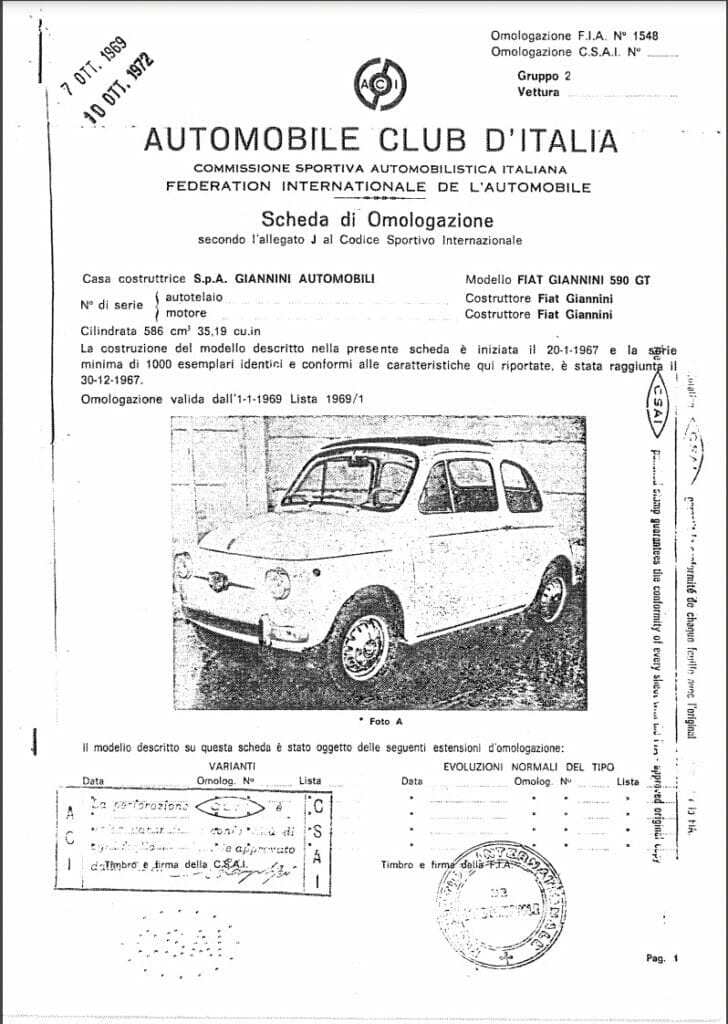 homologation_form_number_1548_group_2
This is a 1970 Giannini 590 GT with the  ASI GOLD PLATE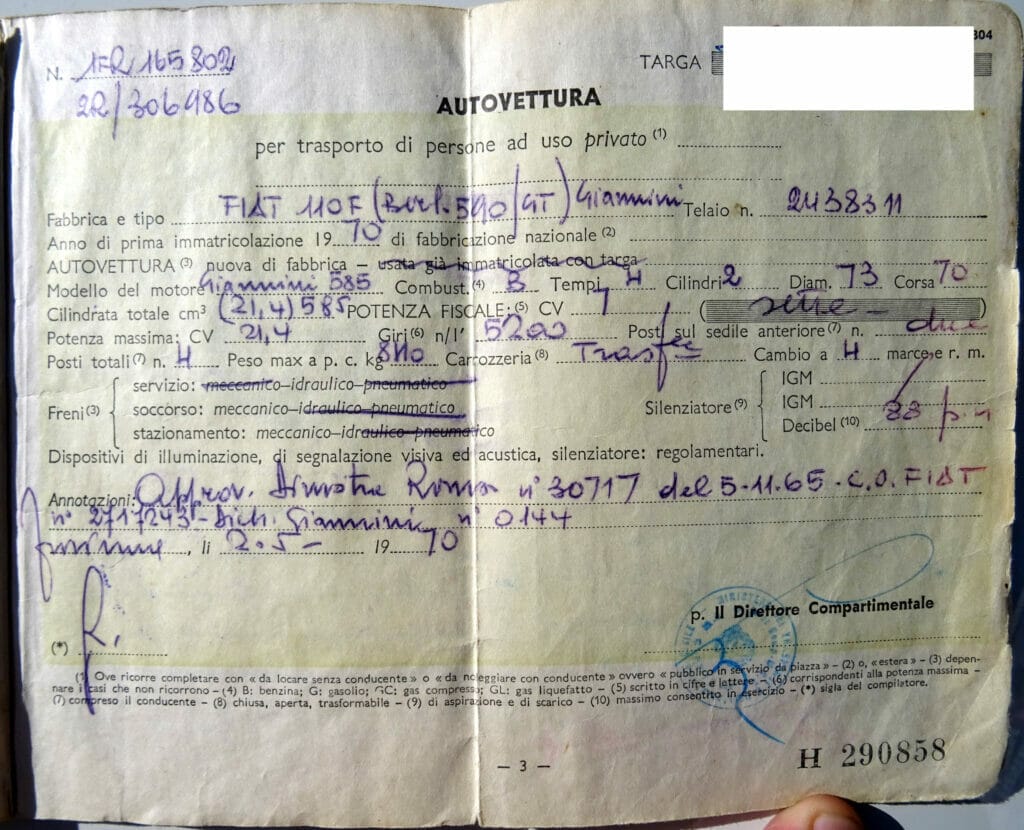 Italian historic/collector's certificate ASI – with recognition of originality with brass plate (commonly called "gold plate" in Italy)
This Giannini is an absolute rarity and truly appreciated and sought-after gem among Fiat 500 collectors. This beautiful and rare GIANNINI 590 GT was based on a 500 F  from 1970. It still has its original booklet and is in good preserved condition. 
The car is free of rust passing along the entire body of the bodywork and between the cavities of the engine and tank compartments.
There are some imperfections on the underbody that are easy to restore. The paint has some microbubbles on the roof.
The Car is in mechanically good order.   The interior, seats and carpets were restored and upholstered.  Also new Rubber mats were installed.
The Car features the Original Giannini dashboard with 130 km/h scale which was specially made for this car model. The car is said to be still powered by its original 110 F Engine.
Giannini style MOMO sports steering wheel.
ORIGINAL registration documents from 1970 are with the car.
Cover the Insurance with our Partner. Calculate it here
The vehicle description is provided to the best of the seller's knowledge and belief. We at Getyourclassic use our experience to work with the seller to provide a correct and accurate vehicle description. However, the bidder must satisfy themselves as to the accuracy of the description and make all necessary enquiries before placing a bid. Our General Terms and Conditions apply exclusively.
| | |
| --- | --- |
| Year | 1970 |
| Make | Fiat, Giannini |
| Model | 590 GT |
| Displacement | 585 |
| Horsepower | 35 |
| Location | Italy, Palermo |