The MIAG Motorkarren.
Here is the translation from the old Brochure
It is a new development in the field of local transport, both in factory and local traffic. Its high load capacity of 2000 kg and its economical speed of 25 kilometres per hour at full load, even on normal gradients, requires its use in all companies where the electric vehicle is uneconomical due to insufficient kilometric performance and too low driving speed, and where no sufficient tonnage performance of the vehicle can be achieved. The MIAG motor trolley is also the ideal means of transport for local transport, from the factory to the railway station, for general cargo transport, etc. Its training with a driver's seat allows it to be used in all companies where the electric vehicle is uneconomical due to insufficient kilometric performance and low driving speed. Its design with a driver's seat allows a co-driver to be carried along; the low platform height facilitates loading and unloading by hand. The great manoeuvrability allows transport even in narrow factory roads. The clear view from the driver's seat and the favourable access are particularly advantageous.
The drive is the proven 25 hp VW engine unit, consisting of an original "VW engine" with VW manual gearbox. The power is transmitted by means of a cardan shaft to a powerful rear axle with bevel gear and differential gear. The vehicle has four-wheel servo brakes, furthermore automotive steering, make Fulmina. It also has full electrical equipment with electric starter and road lighting. -The fuel consumption is very favourable for this load class, but it depends on the mode of operation. The so-called standard consumption with 2000 kg load on level ground on good roads is only about 9 litres/100 km. In practical factory operation with short-distance traffic, however, the consumption is about 13-16 litres/100 km at full load.
This is a MIAG Motor Karren MK2000 manufactured 1953 in Germany.
It was sold in 1953 to French Military and registered under the French military system. You can still see the registration number painted onto vehicle.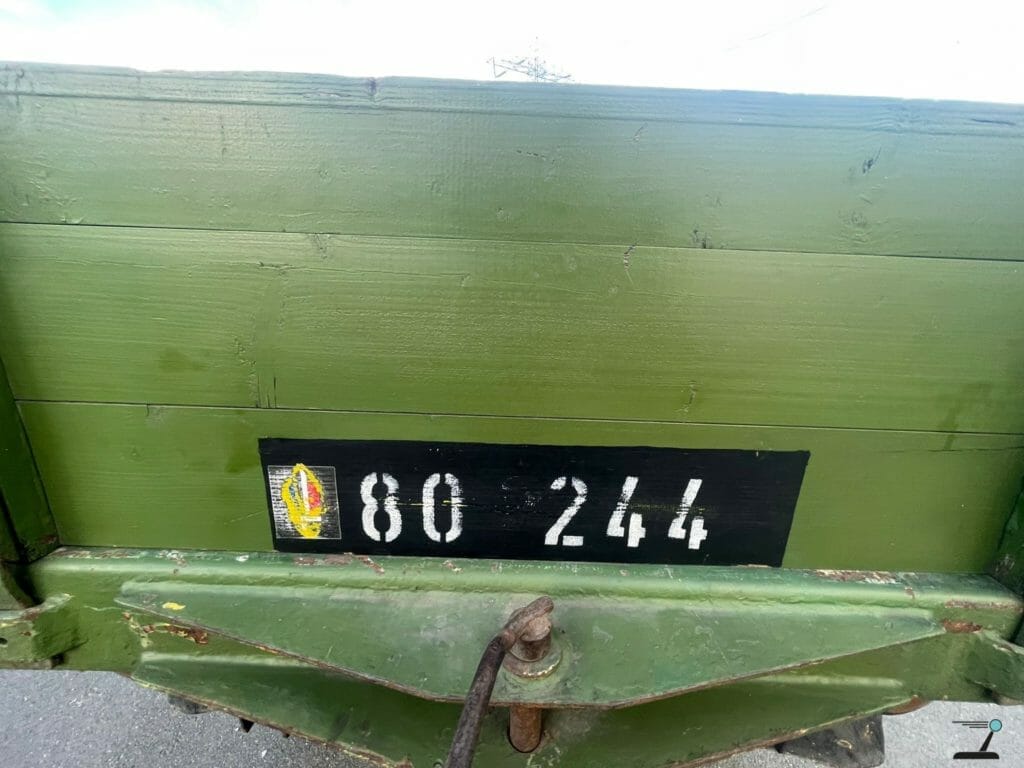 The Motorkarren was than sold in 1963 to a Belgian private collection.  It was part of a military vehicle collection until 2013.
From 2013 it lived in Luxembourg as part of a small Military museum until 2018 when it was purchased by a well known GErman Collector who traded it to another collection in the UK. The electrics were rewired and the 25hp engine was rebuilt.
The Motorwagen even got its registration in the UK and is Road Legal. REgistration Number 317XVN
Here you see the Log Book and a FEature from a military magazine it was featured in.
Please find attached files with log book, description (inc English translation) and pages from a military magazine it featured within.
This is your chance to acquire an ultrarare VW driven Vehicle.
Cover the Insurance with our Partner. Calculate it here
The vehicle description is provided to the best of the seller's knowledge and belief. We at Getyourclassic use our experience to work with the seller to provide a correct and accurate vehicle description. However, the bidder must satisfy themselves as to the accuracy of the description and make all necessary enquiries before placing a bid. Our General Terms and Conditions apply exclusively.