This Limited Edition 1980 Porsche 911 SC was built to honour the Motorsport team working in Weissach, Germany. Only 408 Weissach limited edition were produced and delivered to the USA. Half were painted Metallic Black, the other half Platinum Metallic. The Interior was full leather in Doric Grey with burgundy piping. Special 15″ Fuchs wheels were painted Platinum Metallic and fitted with Pirelli CN30 Tires.
A Weissach`s most noticeable attributes included wide Turbo wheels, flexible chin on the front air dam and the infamous rear spoiler as known as the "Whale Tail"
This Weissach is even more special. From 1987 on it was owned by world champion speedboat racer Buck Thornton.
Buck was known for Racing Boats like that: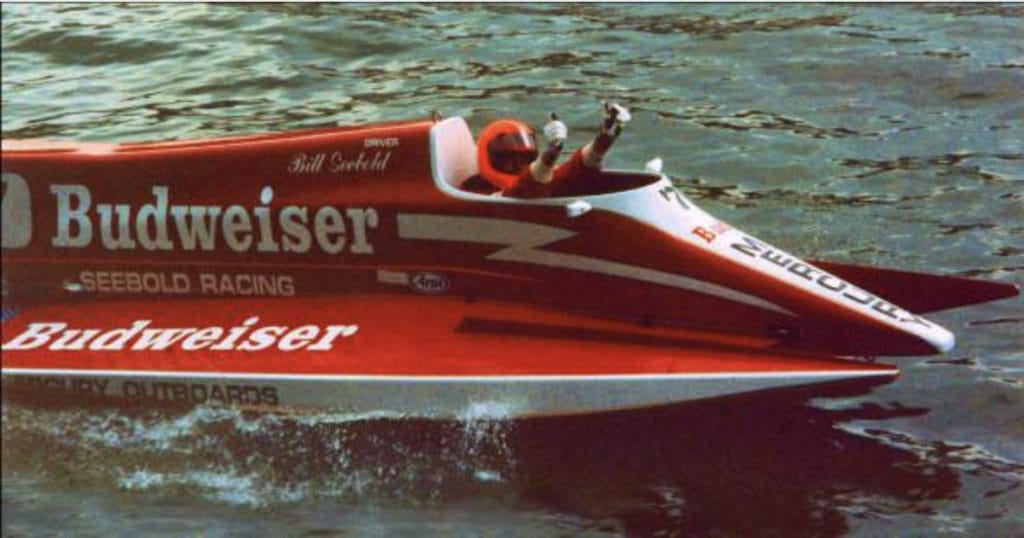 and for things like that:
Check Buck Thornton in the Aronow Unlimited cat competing in the Unlimited Hydroplane class. This boat was extremely fast and the powerful Hemi engines gave the Mercruiser racing sterndrives a hard time. This is from the early eighties when boat racing was at all time high.
Being a man of speed, Mr. Thorton had Frans Blam Racing install a factory Turbo 3.3 litre intercooled 930 motor in this Weissach Edition 911.
Franz Blam Racing was known for handling these machines. The Ubercool Porsche 935.
Pictures from https://www.facebook.com/Franz-Blam-Racing-99456113734
So Franz was the Man of knowledge to do a Job like this. The suspension was upgraded and the clutch as well. Even AC was added. This 911 is incredibly fast, the suspension is tight. It comes with a factory 5 speed 915 gearbox not like the Turbos of the time with the 4 speed Transmission.  The turbo 3.3 intercooled engine running 1 bar boost, make this car spool up instantly!!
Here you see the documentation of the Car:
The overall condition can be described as well taken care of with signs of usage in the Interior.
The paint and colour combination looks stunning.
The paint is in good overall condition. We think that the doors and the left front fender were repainted at a certain stage of its life.
The engine starts right up and has a healthy sound.
This is your chance to be the next owner of the coolest Turbo Conversion from the Turbo Guru himself. It is probably the only Car in the world to have a full Porsche Turbo Conversion by Franz Blam Racing.
The vehicle description is provided to the best of the seller's knowledge and belief. We at Getyourclassic use our experience to work with the seller to provide a correct and accurate vehicle description. However, the bidder must satisfy themselves as to the accuracy of the description and make all necessary enquiries before placing a bid. Please see our Terms and Conditions for further details.