Porsche 928 Strosek
Untouched
original Strosek
Version 2
48.000,00€
The Porsche 928 Strosek is a modified version of the Porsche 928 luxury sports car, produced by German tuning company Strosek Design. The modification includes a new body kit, which includes a new front and rear bumper, side skirts, and a rear wing. The car also features unique alloy wheels and a lowered suspension. The modification is purely aesthetic and does not affect the car's performance. The Porsche 928 Strosek is a rare and unique version of the 928 and is highly sought after by collectors and enthusiasts.
Driving a Strosek is a commitment.
Porno car or pioneering achievement?
At first glance, this beautiful, garnet red and early 1977 Porsche 928 Breitbau, which received its Strosek conversion from Porsche Garage Zurich in 1987, serves all the usual clichés about moustache-wearing demimonde figures of the 1980s.
But far from it.
Unlike suppliers such as Gemballa, the man behind this design, Vittorio Strosek, is one of the most renowned international automobile designers of recent times and counted mainly design-oriented buyers from the world of fashion, art and architecture among his customers.
At the latest when one sees which cars and inventions originate from his pen, the pendulum clearly swings in the direction of pioneering achievement. The lens projection headlights known from his VW Project Two time and the butterfly door hinges later found on the Mercedes McLaren SLR and hinged to the A-pillar are just two of many prominent examples that everyone is sure to know.
In addition to the equally iconic Ferrari König creations, the current Ferrari Novitech refinements, the man can also do series. Whether Golf 5 GTI front, New Beetle, Bora or Polo, Strosek has paved the way for tuning in series production with his design. See his Car Designs here 
When he founded his company Strosek Auto Design in 1982, Strosek also laid the foundation stone for the current retro wave of widebody kits a la Liberty Walk or Prior Design.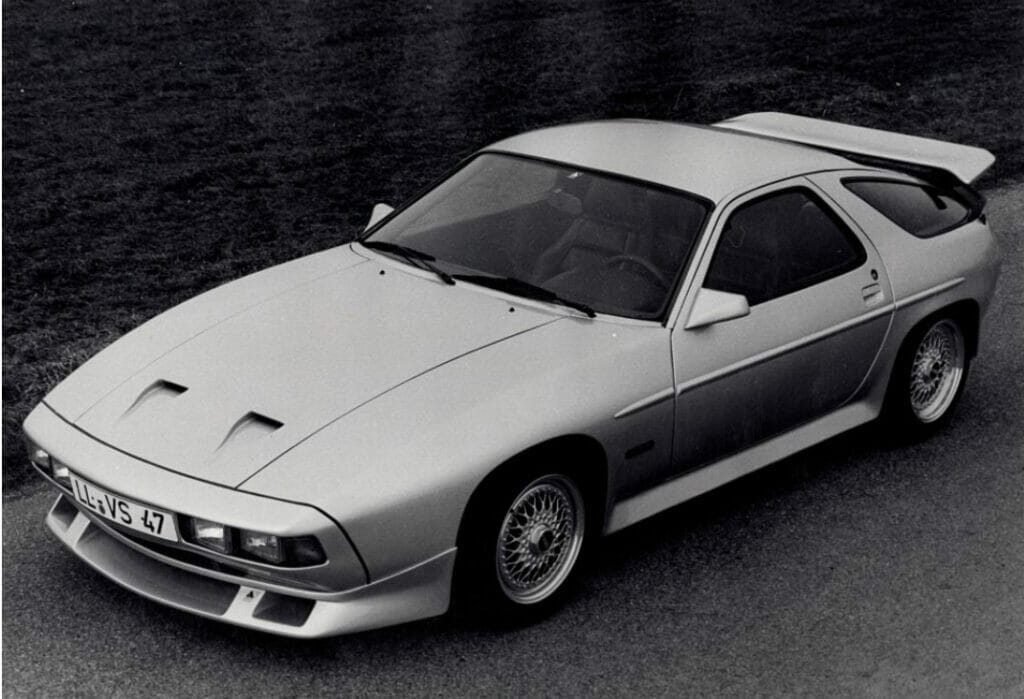 With this Strosek Version 2 kit, consisting of front apron, rear apron and side panels, the designer from Ammersee catapulted himself to become the world's largest Porsche tuner.
Around 95 wide-body examples of the Porsche 928 left his own production facility, and three times that number of kits were sold through partner companies. In relation to the approximately 62,000 Porsche 928 V8s built, this Strosek Porsche 928 on offer represents a real rarity and is therefore very interesting for collectors, connoisseurs and above all individual visionaries.
This Porsche 928 with the VIN number: 9288100132 is one of the earliest 928 from 1977 ( 122th built )
In 1987 the Car went to Porsche Garage Zürich for the Version 2 Conversion.
Work dine in 1987: Total dismantling of the car, conversion to Strosek version 2 chassis; install racing dampers front and rear; Shorten spring front and back; Adjust toe and camber front and rear. Exhaust gas maintenance. Repainting from silver to granat-red-met. The Owner still has the original Porsche invoices (modifications were paid over 25,000 CHF in 1987).
Features of this early 928 :
earliest "clean look" version (no signal lights…)
The rear "s" spoiler was added by Porsche, during the modification
– BBS RS rims
– Recaro classic sport leather seats (paid 3,000 chf)
– manual gearbox
– historic "Pascha" interior
– original Porsche & Strosek & BBS invoices
– original set of 3 keys
– "matching numbers"
– Swiss "veteran" certificate"
– 150,000 km (original MFK service book history)
– unrestored car in original excellent condition
Cover the Insurance with our Partner. Calculate it here
The vehicle description is provided to the best of the seller's knowledge and belief. We at Getyourclassic use our experience to work with the seller to provide a correct and accurate vehicle description. However, the bidder must satisfy themselves as to the accuracy of the description and make all necessary enquiries before placing a bid. Our General Terms and Conditions apply exclusively.