VW Iltis Porsche Jagdwagen
First Owner Ferdinand Porsche
Civilversion Iltis
Restoration Project
The Volkswagen Type 183, more commonly known as the Iltis (German for polecat), is a military vehicle built by Volkswagen for use by the German military. The Iltis was also built under licence in Canada by Bombardier for 2,500 vehicles for the Canadian Forces and 2,673 vehicles for the Belgian Army. The Canadian production ran from 1984 to 1988 during which time a small number of vehicles were also delivered to Cameroon and Oman. Although the two vehicles were briefly offered simultaneously, Type 183 effectively replaced the Type 181.
This Iltis is a very special one and a very attractive collector's item. Though it needs a complete ground up restoration.
This very special Iltis was produced as a Civil version on the 20.02.1979 for Austria. It was ordered by the father of the Porsche 911, Ferdinand Alexander Porsche, aka "Butzi"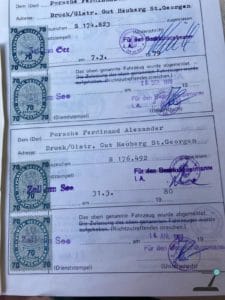 He was the first owner and registered it on the 7th of March in 1979 in Zell am See. He mainly used it for hunting and going to the woods around Zell am See. The Iltis was recently found when a Farmhouse in Austria was sold. The Car sat in the Garage and was part of the deal. The seller heard about the Car and its profenance and acquired it immediately from the new House Owner.
Besides the incredible history of being the private Car of Ferdinand Porsche, the Iltis needs a Full restoration. Included in the auction is a shell from another Iltis were you can use the Body for the restoration work. All the technical components need an overhaul as well as electronics. The car was not started for years. See the pictures to get an idea of the work that needs to be done.
This is an incredible chance to own a Car from "Butzi" Porsches private vehicle fleet
The vehicle description is provided to the best of the seller's knowledge and belief. We at Getyourclassic use our experience to work with the seller to provide a correct and accurate vehicle description. However, the bidder must satisfy themselves as to the accuracy of the description and make all necessary enquiries before placing a bid. Our General Terms and Conditions apply exclusively
| | |
| --- | --- |
| Year | 1979 |
| Make | Volkswagen |
| Model | Iltis, Type 183-55 |
| Horsepower | 55 |
| Location | Netherlands, Renkum |
| Guide Price | € 19.000 – 21.000 |