The Meyers Manx dune buggy is a true icon of the 1960s Californian car culture and played a pivotal role in popularizing the dune buggy phenomenon worldwide.
Bruce Meyers, a surfer, boat builder, and artist from Southern California, began designing the Meyers Manx in the early 1960s. His background in boat building, particularly with fibreglass, became instrumental in creating the Manx. Meyers conceived the idea of creating a simple and fun car. Using his skills with fibreglass, he developed a one-piece shell that could be placed onto a shortened Volkswagen Beetle chassis. Its signature design was characterized by a combination of playful curves and a lack of doors. Launched in 1964, the original Meyers Manx was an instant hit, particularly in the California beach scene. Its off-road capabilities coupled with its distinctive appearance made it popular not only for beach cruising but also for desert racing.
The Meyers Manx garnered significant attention when it won the inaugural Mexican 1000 (now known as the Baja 1000) in 1967, a gruelling off-road motorsport race. Its victory showcased the dune buggy's capabilities and further boosted its popularity.
The success of the Meyers Manx led to a surge in imitations. Many companies started producing similar dune buggies, leading to Bruce Meyers attempting to secure a patent on his design. However, the patent application was denied, leading to an uncontrolled explosion
in the dune buggy market.
Production of the original Meyers Manx concluded in the early 1970s, but its influence didn't end there. The design inspired countless replicas and variants. Bruce Meyers later reintroduced the Manx in the 2000s with modern iterations and updates.
The Meyers Manx remains emblematic of the 1960s' freedom, fun, and innovation spirit. Today, vintage Manx buggies are highly sought after by collectors and enthusiasts alike, and the Manx name continues to be synonymous with dune buggies.
In essence, the Meyers Manx beach buggy is more than just a vehicle; it represents a distinctive era in automotive history, characterized by creativity, innovation, and the joy of the open road.
This Meyers Manx is from 1968 and was disassembled and restored to the last screw between 2021-2022. The body is new and has been finished in spectacular brilliant moss green metal flake. This is NOT paint. The metal flakes are worked into the top layer of the GRP.
The chassis got new special buggy floor halves and was completely sandblasted. After that, the paint was applied and the cavities were preserved. The complete chassis was built exclusively with new parts. The engine and gearbox were checked and resealed. The 1600 engine with standard 50hp got a double carburettor system with Zenith carburettors from the Porsche 356 Super75.
In addition, it has a fully electronic 123 distributor, which works completely maintenance-free and significantly increases the engine's reliability. The engine exhausts through an original Meyers Manx "Sidewinder" exhaust, which is super rare in Europe.
With all modifications, the engine should produce about 60-65hp, which in the 650kg buggy with the long and also rare AT gearbox makes for surprising performance in the first two gears, and relaxed cruising in the last two. 80km/h at 2000 rpm, top speed is 150km/h. The bodywork was also completed exclusively with new parts. The electrical system is now down to the last plug. The interior is refreshingly reduced to the bare minimum, with three control knobs and the ignition key.
Here are the features of the Manx buggy:
Chassis / Bodengruppe:
1968 automatic Beetle floor
(slanting link, short front end carrying link front axle) converted to gears
floor shortened by 37.5 cm or 14 inches to fit the Manx body
new Buggy floor halves welded to the correct length,
from Flatout Customs, 1,8mm sheet thickness (England)
frame head floor renewed
frame bottom opened, all Bowden cable pipes new, new fuel line made of copper with 8mm diameter
Floor/frame sandblasted from inside and outside
Paintwork with primer and topcoat in RAL9005, underneath additionally glass-clear underbody protection wax, interior additionally "Raptorliner" PU loading area coating, in the frame additionally cavity preservation with Fluidfilm
Slanting handlebars sandblasted and painted
all chassis parts fitted with new bearings/rubbers/seals
adjustable VW Beetle front axle new
all suspension joints new
steering gear revised
track rods new
all chassis parts new
shock- and steering damper series
front and rear standard height
front 5,5×15 steel rims VW Beetle, 195/60/15
rear 7,0×15 steel rims VW Beetle, 235/70/15
The tyres are BF Goodrich Radial TA these were developed in the
60's, so they are "period correct" for the Manx Buggy.
original 1968 VW Beetle hubcaps
front VW Beetle disc brake
rear VW Beetle drum brake with Porsche 924 wheel brake cylinder 21mm diameter
steel braided brake hoses
new brake lines
all parts of the brake system are new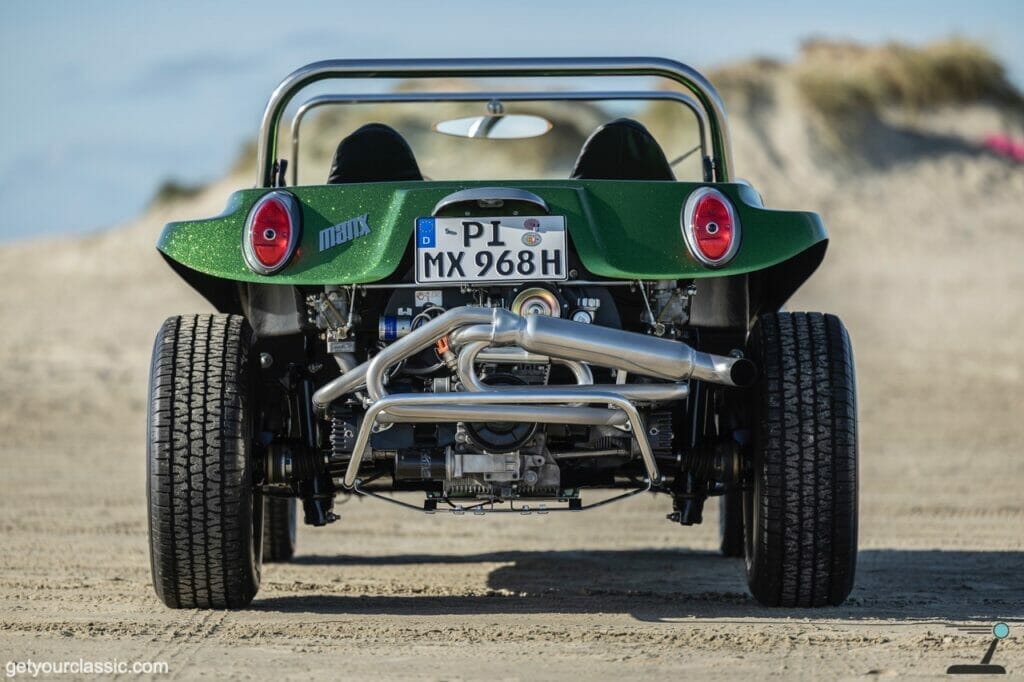 Engine / Transmission:
air cooled 4 cylinder boxer engine from VW Beetle 1,6L displacement MKB AD, 50hp series
block new sealed, heads checked, compression checked, new tappet tubes
Alternator
Sheet metal sandblasted and painted
Full flow oil filter retrofitted
contactless full electronic ignition distributor from 123 Ignition
2X 32′ Zenith NDIX twin carburettors from 1960 Porsche 356 Super75
Sauer&Sohn intake manifolds
Riechert air filter
Riechert throttle linkage
hand-milled aluminium valve covers, Made in Germany, limited to 250 pairs, special edition for the 1st European Bug-In (biggest beetle meeting in Europe)
original Meyers Manx Sidewinder exhaust (USA)
Power approx. 65hp
VW Beetle bevel gearbox with the longest standard gear ratio, code letter AT, completely overhauled, ice-blasted, all attachments new, clutch new
Gearshift rod reinforced, gearshift fork welded (to prevent bending open)
Driveshafts new
Gearbox/engine underride protection self-made, 4mm aluminium plate, edged, perforated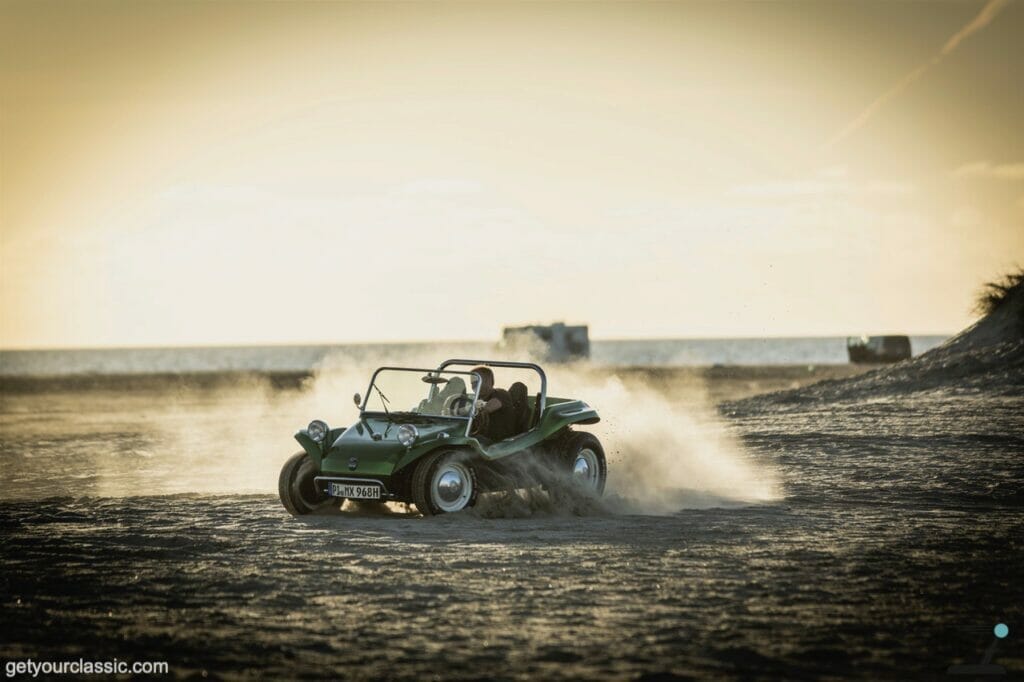 Body:
Original Meyers Manx Body NEW February 2022
Certificate of authenticity from the manufacturer in California
Exclusive Manx Club USA membership for the car
self-built/welded body stiffeners (front, middle, rear)
new VW Beetle fuel tank, rebuilt to fit under the bonnet
Buggy windscreen frame new (USA)
new ESG windscreen according to ECE standards, specially made in Germany
Stainless steel roll bar (USA)
Windscreen wiper from 1303 VW Beetle
Quick release racing filler cap, handmade from aluminium, "Monza-Style" (England)
Hot Rod stainless steel exterior mirrors (USA)
special outside mirror holder suitable for windscreen frame, alloy (USA)
The front bar, chrome plated (England)
rear bar chrome plated (USA)
self-built dashboard frame with braces for "electrical panel
Interior:
"Surfboard" interior mirror by Mooneyes (Japan)
38cm wooden steering wheel from the 70′.
Horn button from Mooneyes (Japan)
Plastic dragster seats with removable vinyl cover (USA)
Racing seat consoles from Porsche 944 combined with self-made consoles which fit to the seats
Three-point-belts in car colour green
Dashboard support home-made, wood, and veneered with cedar wood to match the steering wheel and interior mirror
1968′ speedometer from VW Beetle, 1970′ VDO instruments with chrome frame for oil pressure and temperature,
1966′ Rev counter from BMW CS2800 converted to 4 cylinders.
All instruments were reworked by a specialist company and converted to white pointers with aluminium caps.
all switches from 1968′ VW Beetle so "period correct".
original "EMPI" sport shifter from 1967 with 40% shift travel reduction
reinforced shift rod clutch between shift rod and gearbox from the racing sport"Surfbrett" Innenspiegel von Mooneyes (Japan)
Electric:
self-made plastic plate for the electrics under the dashboard
new original 1968′ VW Beetle wiring harness, so all cables are in original colours like the Beetle, so they can still be traced later on
all cable lengths adapted to the Buggy
front headlights original Hot Rod headlights from Dietz, New York, Model 820 from 1965 (USA)
handmade aluminium base holder for the front headlights (USA)
front turn signals original VW Beetle model year 1953-1958 (Ovali)
white indicator lenses front
wiring harness modified for alternator
original VW Beetle tail lights year 61-67
new chromed tail light carrier
US tail light (red indicators) with Hot Rod "blue dot" decoration (USA)
new chromed 61′ VW Beetle number plate light
During the last years, it was regularly seen on different Events. During this summer it was the Advertising Car for Breitling and participant at Pedro Surf in Sylt.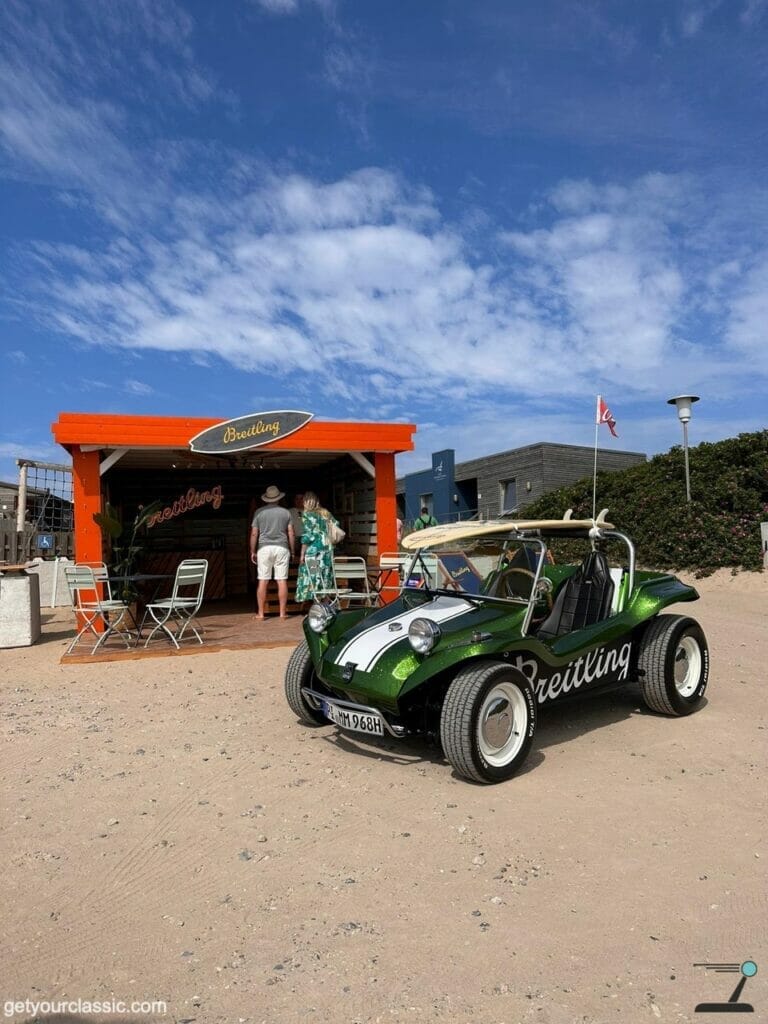 Another highlight was the invitation from the biggest German car YouTuber "JP Performance" who presented the buggy in his video series "Let's Drive".
Next year will mark the 60th anniversary of Meyers Manx. Hint…Goodwood Revival is calling.
The Beach Buggy is fully Road Legal and registered with historic number plates. TÜV till (8/25)
An Expertise from Classic Data states it as condition 1.
Cover the Insurance with our Partner and only pay. Calculate it here
The vehicle description is provided to the best of the seller's knowledge and belief. We at Getyourclassic use our experience to work with the seller to provide a correct and accurate vehicle description. However, the bidder must satisfy themselves as to the accuracy of the description and make all necessary enquiries before placing a bid. Our General Terms and Conditions apply exclusively.
All brands, trademarks and protected designations mentioned are the property of the respective legal owners and are only mentioned because they are either part of the article or represent an unmistakable quality feature of the article.
Additional Note:
A Getyourclassic Car Specialist is working as an agent on behalf of the owner for this vehicle.
Contact: Michael Gross
Phone: +49 176 624 33453
mail: michael@getyourclassic.com
| | |
| --- | --- |
| Year | 1968 |
| Make | VW |
| Model | Meyers Manx |
| Engine | flat 4 |
| Displacement | 1600 |