Fiat Seat 600 Abarth Corsa Juncosa
rare Seat Abarth
One of three
ready for the Track
During the fifties, Manel Juncosa was dedicated to carrying out small improvements in all kinds of vehicles, being the appearance of the Seat 600 at the end of the decade that caused the creation of the authentic department of preparations. For some time, the activity was based on obtaining greater powers in the engines and thus, the first 600 prepared by Juncosa (that so many successes would obtain in the hands of the members of the family) already gave about 55 CV, as opposed to the 28 CV of origin. In 1960, Ignacio Baixeras won in his category, with a 600 Juncosa, in the Rally of the 2,000 Virajes. As these were small cars, most of the victories and results corresponded for several years to classifications in their category, although absolute victories were also obtained.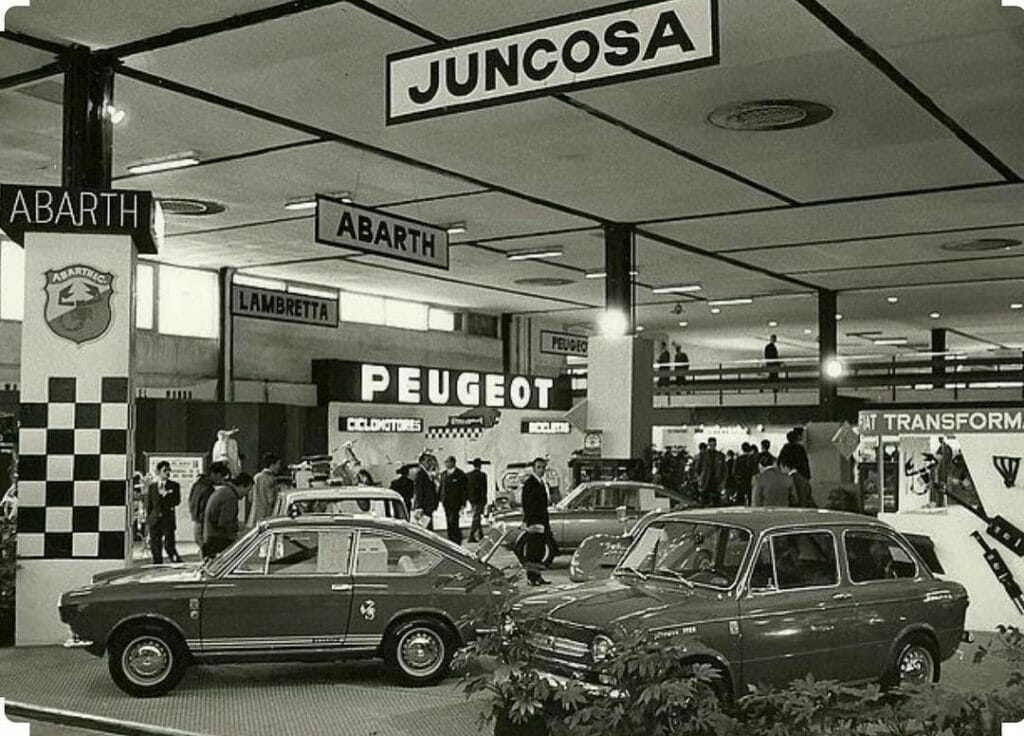 In 1962, Juncosa obtained the official representation of Abarth for Spain, which allowed him to have more perfected material at his disposal. Three Fiat Abarth 600/850, driven by Jaime Juncosa, Jorge Palau Ribes and Víctor Sagi, formed during the biennium 1962-1963 a powerful semi-official team, which accumulated good national results, in those years of incipient automobile activity in Spain. These results were rewarded with the double title (Spanish and Catalonian Championship) that Jaime Juncosa Sr. obtained in 1963.
Some period Racing pictures from Spain:
In 1965, the company received the San Cristobal Medal, awarded by the Transport Union, and in 1966, with the entry of the Seat 850 into the competition, a further step was taken in the preparations on a national mechanical basis. In rally, mountain or circuit, rare was the winner of the small displacements that did not have a car prepared by Juncosa. The titles of the older brother, Jaime, were followed by those of the younger brother, Manuel, and the 1967 Spanish Rally Championship was won by the 850 and 1000 Abarth models "prepared in-house".
Here is a story on. Youtube about Manel Juncosa
The Car here at auction is one of the 3 prepared by him back in the days.
The Car is in good condition. It is said to have never been crashed. Nevertheless, we are certain that it needs a technical overhaul before going on the next Race.
Cover the Insurance with our Partner and only pay € 135,-/per anum. Calculate it here
The vehicle description is provided to the best of the seller's knowledge and belief. We at Getyourclassic use our experience to work with the seller to provide a correct and accurate vehicle description. However, the bidder must satisfy themselves as to the accuracy of the description and make all necessary enquiries before placing a bid. Our General Terms and Conditions apply exclusively.
Please contact us about payment methods for this Vehicle before bidding.
| | |
| --- | --- |
| Make | Abarth, Fiat, Seat |
| Model | 600/850 |
| Location | País Vasco, Spain |
| Guide Price | € 24.000 – 28.000 |