Steyr Typ 80a
Like new
a lot of accessories
ready for farming
10.000,00€
After Steyr Daimler Puch A.G. (SDP) had produced the first Austrian diesel tractor of the post-war period (Steyr 180, 26 hp) in 1947 and sold it with increasing success mainly to medium-sized and large farms, the Steyr diesel tractor type 80 was produced from 1949. The target group to be addressed was the smaller farms. Around 45,000 of this tractor were built until 1964.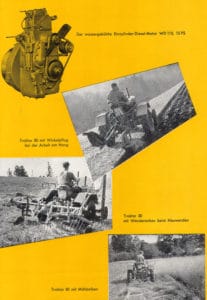 The single-cylinder diesel engine initially produced 13 hp (9.6 kW) at 1500 rpm. From 1953, the engine power was increased to 15 hp (11 kW). The first models were equipped with "bottom exhaust", dry air filter and a crank for starting, but soon "top exhaust" and oil bath air filter became standard and hydraulic lifting gear and electric starter were available on request.
Since the ground clearance of the Type 80 was low with the mower drive mounted and its use in root crops was therefore sometimes problematic, the Type 80 a was offered from 1950. This tractor had considerably larger rear wheels (8-36 instead of 8-24), a track-adjustable portal front axle. It was built 14,357 times until 1956.
This Steyr Typ 80 a comes with a lot of Accesoires.  Original board tool,  Seats for mudguards and driver's seat!
It was registered until 2016. The previous owner did a complete overhaul. No frost damage. All oils changed were changed by the current owner. He mentions that as the tires are quite old, they should be changed.
Bid on your chance to own a rare Traktor in perfect condition.
| | |
| --- | --- |
| Year | 1957 |
| Make | Steyr |
| Model | Typ 80a |
| Colour | green |
| Engine | 1 Cyl |
| Displacement | 1330 |
| Horsepower | 15 |
| Location | Orth an der Donau, Österreich |