The back crane is fast approaching, a slight pressure on the brake just before, but even so, all four wheels from
the narrow dirt road. The car lands hard, the suspension almost bottom both front and back. But the driver knows that the strong reinforcement in the front car and the powerful progressive anti-roll bar under the rear axle helps raise the bumps, but it doesn't stop that the rear protective plate almost obliterates the gravel bar in the middle of the road. A long right bend is fast approaching. The driver brakes hard, the powerful Porsche brakes do their job, he throws in the third and puts the car in front of the curve, gravel and stones rattle the deafening against it completely the sheet metal undercarriage, but he manages to keep a decent one drift until it gets straight again, the dual carburetors feed the 1.3-liter Oettinger-trimmed engine fully. 130 km! In with the low switched four that will soon pass 140 and up to top speed 150! "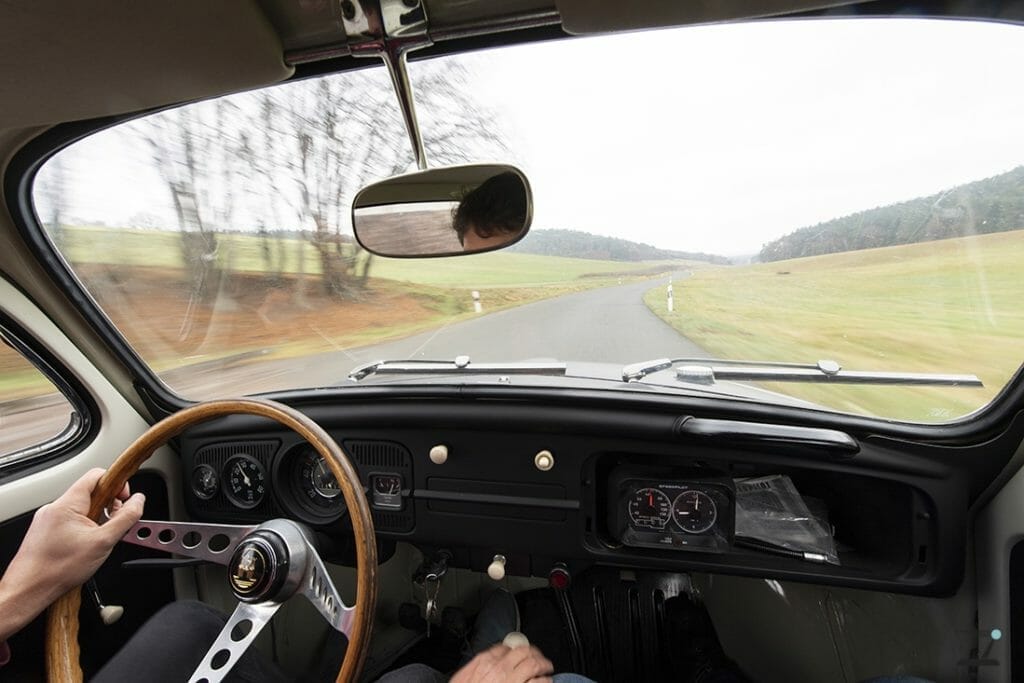 This is how a report could have sounded like about Scania's biggest individual venture ever at two international rallies.
It was sometime in 1964 that the Swedish Volkswagen Importer Scania Vabis realized that something needs to be done. The 1200s Beetles held for what abuse at any rate but no longer kept up with the pace. Admittedly, the VW Type 3 The People had arrived, and the 1964 model had got a stronger engine with dual carburettors, but the car was heavier and despite the double carburettors it did not hang with right in the competition against BMC Cooper, Cortina Lotus and more.
As for the race cars, they were better balanced and reviewed and passed their task relatively well.
Although clearly the 1500 engines in type 3 held worse than that old 1200 engine. In itself naturally with a higher one power output and a significantly more revving engine thanks to the double carburettors.
It should also be borne in mind that Scania was a truck manufacturer and was only general agent for Volkswagen in Sweden. Their only interest in competitions with Volkswagen was how much advertising there was in the rally, for example. All competition activities were financed by the advertising account and the drivers and competition leaders did not live a luxury life. They worked full time in the Scania and Volkswagen units, training and competing you had to do at your leisure.
But just in this crank came a message from Volkswagen-Werk in Wolfsburg. It was one of the higher managers in the management there who wanted to have a dialogue with Scania about a project. The nature of the project meant that it became Gunnar Häggbom, one of Scania's competition leaders, and further a colleague, who had to go down to Germany for Scania Bill.
The Volkswagen CEO's case came as something surprising. He wanted to discuss a venture on a special model of the Volkswagen 1200. Since the development of the that model largely stopped and the VW 1500 did not sold as one imagined, and in addition was pulled with big ones quality problems, so he felt that something new had to be added to help at least keep the interest up for the old "1200th People".
What could be better than "helping nature" a bit the road so that the car became competitive again. Admittedly, the car would become a "wolf in sheep's clothing" but the attention would help to prolong sales and keep alive the old wagon which was a construction which dates back to the mid-1930s. Admittedly an incredibly good one, but the director realized it had to a fall in sales within a few years. It was inescapable.
Heinz Nordhoff had been sitting at the helm for seventeen years and did not dare or did not want to replace the People with a modern car where road characteristics, spaces and speed resources would be able to meet the increased demands that customers would soon have will require.
Over a lunch Well down in Wolfsburg, Gunnar Häggbom was sitting colleague and the VW director a whole day and discussed which ones steps you could take with a VW 1200 and what kind of events you would attend. One thing you were fully aware of.
And Volkswagen type 1, or 1200 if you like, was one of the world's most robust cars. But it wasn't really a high-speed car, the strength was in endurance. You could then maintain stamina if you increase the car's performance?
It was concluded that you could do it with help by Gerhard Oettinger's company Okrasa. He has had experience in tuning Volkswagen engines since 1951 and series-produced engines that were only to stop in cars and drive. The performance increase already at Oettingers "Standard engine" of 1300 cc was 47%. With easy trimming of this engine, one would achieve a performance boost of 65-70%.
The rest of the car would have the experienced racing stall at Scania arrange it was this experience the VW director wanted access to and to get a partner in the venture.
But how much did such a venture cost? Gunnar Häggbom and his colleague had lunch prepare a calculation and budget for this. They sat at their lunch and wrote his calculations on paper napkins at the same time as you ate lunch. After lunch, they returned to their client and presented what they had come up with.
A decision was reached. You would run a long rally with specially equipped cars and invest hard to succeed. The Spa-Sofia-Liege rally was chosen, starting with the classic the race track Spa and goals in Liége, Belgium.
So far everything was clear. But the VW director made it clear that this was not anchored by Heinz in any way Nordhoff why he wanted it to officially appear that Scania was responsible for the venture, and that nothing had to leak out about Volkswagen-Werk's involvement in this and that the factory actually stood for the whole bill. "He there upstairs (Nordhof) would certainly not like this – but we drive anyway! "
It should be mentioned that the Finnish Volkswagen importer, who had a very benevolent attitude to racing activities and was keen on Finnish drivers like t e x Pauli Toivonen would stay in the Volkswagen stable, probably helped in the background "pushing on" at the decision maker in Wolfsburg. Sigvard Andersson, then Head of Information at Volkswagen, told me that the project was in any case good land in Södertälje, you could as a reward for your faithful drivers give these the opportunity to run such a long rally once, and partly that if the bet went well possibly be able to attract interest in the Volkswagen factory's management and Heinz Nordhoff, and maybe be allowed to type the cars like Volkswagen Oettinger or Volkswagen Okrasa.
This would make the car competitive again.
Heinz Nordhoff had an icy attitude to racing this time. Much can be said about Heinz Nordhoff, but he did not like car races.
Here it was a matter of first showing results.
Really remodelled cars
When the decision was made it was in a hurry, you took 5 pcs white new 1200's of the 1963 model and started building about them for rally cars and to cope with the extremely demanding long rally Spa-Sofia-Liége.
All side windows were removed and replaced by plexiglass windows
window mechanism was removed and replaced with a leather strap with which one pulled the door windows up and down, further was taken
the side pieces on the doors and the panels at the sides about.
the rear seat removed
everything to save weight.
underframe treatment and rust protection was not to think about.
at the back seats were removed store some tools, water jug, coffee mug, gas can, etc.
in the luggage compartments the standard 40 liter tank was removed and was replaced by tanks of 84 liters! The filling took place in a pipe that came out of the hood! The 84 liter tanks were manufactured by Yngve Back in the competition department. He got pretty tired of these thoughts, it was almost impossible to get they are 100% dense.
the front hood and the part from the hood up to the front window was painted matte black. So did the dashboard inside the car to avoid reflexes. GT chair for the driver and one
better upholstered and folding chair was inserted on the right side,
they also had to do a slight bend of the gear lever because it tended to reach the GT seat when it was in advanced position.
the Brakes were taken from Porsche's B models, it was the drums with the transverse heat sinks that Porsche used from 1960-63. They were Glanced at Porsche. Like the Porsche 356 Super 90 GT and Carrera GT. These had rear wheel bolts to allow for 2 cm wide spacers between the brake drum and the rim.
When the five cars were fully equipped in Sweden they still had VW brakes on. Mounting of the Porsche brakes took place in Frankfurt in a brake workshop who was next door to Oettinger's company Okrasa. The rear brakes then got the longer wheel bolts and the two cm wide spacers.
The cars were lowered at the rear with more negative camber to counteract override and provide better road characteristics.
Furthermore, the cars were also lowered forward, this by saw the tubes in which the torsion rods sit and then twist these slightly and weld them again. This was not really allowed but did not appear much when it was done if only a few centimeters. It was thought there to use the rule of "strengthening and supply of material" if
someone would see it all and have their views. Additionally the original mounted anti-roll bar was replaced towards a more powerful one.
For hard landings, the cars received a strong reinforcement between the chassis and the body forward. You had the front end of the base plate flattened to a strong iron pipe and bolted it into the chassis, it was then bent upwards and attached to the body. The car could now withstand any landing. In the gearbox, the four was switched down for the car to stay anything stronger, the top speed would in any case be higher with a stronger and more revving engine.
The engine yes, they chose to equip the cars with engines trimmed by Gerhard Oettinger's company Okrasa (the name an abbreviation of "Oettinger Kraftfahrtechnische Spezialanstalt" which was located in Darmstadt outside Frankfurt in Germany. The technical team at Volkswagen's competition department had to go down to Gerhard Oettinger's company Okrasa to train in the place and place in the art of putting together and running such an engine.
The crankshaft was forged and had counterweights and was sliding with a stroke of 69.5 mm instead of standard 64 and was 1285 cm≈. The carburetors were solex 32 PBIC.
The cylinder heads were Oettinger's own with double intake ducts, larger intake valves and sodium-cooled exhaust valves. The compression ratio had been increased to 8: 1 (standard 7: 0). The power was 50 hp at 4,300 rpm (max. 5,000 rpm min), maximum torque 100 Nm to standard 84.
For better cooling, greater oil volume and improved oil unit was fitted with an extra oil filter on the fan cover.
All values ​​above apply to the engine like Oettinger / Okrasa sold as its "standard engine". But we should mention that the engines of the five rally cars were further honed and gave DIN 58 hp in brake bench.
The clutch was taken from VW Transport which could withstand a much harder load.
All the measures resulted in a top speed of about 150 km / hour (standard 115) and an acceleration 0-100 of about 15 seconds to standard 24 seconds.
There was also 1500 engine It should be known that Okrasa also had a 1500 cm engine with 70 hp as standard. Thus, there were also such choices in the time perspective that Scania could imagine competing with such a Volkswagen.
The offer to drive the five race cars went to Berndt Jansson with map reader Erik "Jerka" Pettersson, Bertil Söderström with map reader Rune Olsson (who added everyday was competition mechanic at Scania), Henny-Britt Ehringe with map reader Eva-Maria Falk, Pauli Toivonen and Rune "Ruppe" Larsson with chart reader Börje Nilsson. Bertil Söderström refused, however, he did not want to drive such a foreign loan rally. The bid went instead Gunnar Blomqvist who agreed. The competition leader was Göran Falgard, Gunnar Häggbom and Leif Hansen and Sigvard Andersson. Of course there was also competition Bulgaria and back to Belgium and Liege again through the same countries but with a slightly changed distance.
The Spa-Sofia-Liege rally was considered punitive, and enough the Swedish shipowners got their share of this. All the cars got off nicely and nicely. The ship Berndt Jansson with chart reader Erik "Jerka" Pettersson with starting number 30 set the highest speed from the beginning and then held this until they were up in the mountains of Yugoslavia. The then had only two vehicles in front of him and led a rally. Berndt and Jerka had now reached one of these two ekipage, that was Pat Moss in Saab. Berndt fell behind and tried to find an opportunity for overtaking, but in the mountains it is rare with straight lines and it was hot and dry and it dusted terribly. Bit by bit the visibility was zero behind the Saab. Jerka asked Berndt to take it easy and wait for someone mile would be better way with asphalt paving and man would release the dust. Berndt dropped a hatch to Pat Moss and the sight became better, but then an overtaking opportunity and Berndt again approached Pat Moss. Suddenly there was the dust compact again and visibility zero and Berndt had to again leave a gap. New opportunity again and Berndt is approaching, again you are in the dust cloud, but now it seems nasty to Pat Moss brake lights flashed through the dust and disappeared – and the way too! It had swung 90 degrees right onto one bridge! What Berndt and Jerka see in front of them is a stumble! Berndt throws up the car in a crossover in an attempt to enter the bridge. But the speed is too high and the car's left rear end crashes violently into bronze pillar so hard that the car's battery leaves the car straight through the side plate of the car! The rear window also finds the opportunity well chosen leave its place and it is later found in a tree 50 meters further down the slope. It must have been something like that where the car ended up unless Berndt put the car in it powerful side cord.
FINAL ACT!
Jerka got a lighter concussion as he broke his handle on the roof finder with his head. Berndt and Jerka got a lift on the flatbed of an old truck down to the buildings. The next day they went back for to get the car, but then most of it was stolen, brakes and all the equipment that had gone unscrewed at all of the car.
Now we move on to Rune "Ruppe" Larsson and chart reader Börje Nilsson. During some stages in Yugoslavia received Begin lying at the back seat of the car and switch with a polygrip through the inspection door. The knot that connects the gear lever rod with the gear driver into the gearbox through which the gear lever was running had changed in the 1964 model. Unfortunately, a bolt had received for poor quality and that was simply torn apart by the terribly bad roads. "Ruppe" runs as fast as it can and Börje switches the polygrip, then "Ruppe" roars again: "Switch!" – I can't, my hand is stuck, just as it was released the grip, finally came to find out why Börjes hand was squeezed sometimes. It was in the curves, then moved and twisted the gear so much so that the hand could not fit, so it was just to drive a little calmer in these.
Eventually you got the bug fixed and you could switch back normally. Otherwise, it floated on, but the roads were terribly bad, "says Börje Nilsson. Pauli Toivonen then? Well, he eventually broke up because of this problem with the bad bolt.
Gunnar Blomqvist and Henny-Britt Ehringe also had broken and was on his way home. Gunnar says that when he was driving in the Italian Alps in Cortina d´Ámpezzo he had Henny-Britt Ehringe a bit behind him. Suddenly discovers he sees that her light is no longer visible in the rear-view mirror. He stops for a few minutes but no one comes that way he returns and finds that Henny-Britt has run into one bridge railing so badly that she damaged the pelvis and her card reader, Eva-Maria Falk, who was also married to it knew Formula 1 driver Wolfgang Berge von Trips, got some injuries to the face.
Transhipment occurred in a hospital in Italy and then the ambulance flight was home Sweden for HennyBritt for care here. Eva-Maria had to go with Gunnar Häggbom home, which he immediately heard about the accident, took flight Munich where he rented a car and drove down to the hospital. The crews in the cars had received strict orders that drive straight to a hotel and sleep out if they got to break. But you wanted to go home and then it went as it went. One came to the finish. The target was Rune "Ruppe" Larsson and Börje Nilsson. And it must be said, he and the reader made an achievement that came in 8th place and also water classmates. Börje Nilsson tells us it was real "driving" that applied. Full speed through villages and communities, there extra-mounted strong horn on the front hood came for use. Outposted police in urban areas did what they were able to cushion the speed with signs and with theirs presence. But competition is competition and they probably succeeded not very well in that exercise.
But in Germany it was the opposite. In one place Autbahn was the traffic jam, when the Police piloted the competition chip out on the fields until they have passed the queues. Berndts and Henny-Britt's damaged cars were abandoned to Södertälje where they were cleaned of their equipment and then got to serve as an exercise object in education at "Plåtverksta'n". As for the three remaining intact cars after this demanding rally, Ruppes, Gunnars and Paulis cars, so even these came back on truck, one had to and with placed on top of the other two. Göran Falgard remembers that "you felt pretty cheap", from the outside, it looked like this whole venture ended in an even bigger scrap truck.
In summary, it must still be said that the cars were fairly competitive with the rebuilds they made of the old 1200 model. Berndt and Jerka had in fact, the rally in the rally when the unfortunate happened in Yugoslavia. Ruppe and Börje came eight despite the problem with the gears.
The stall had been unlucky but clearly the effort would continue. The next rally was RAC which would go 7-12
November.
Five cars again
Bertil Söderström and Rune Olsson thanked this time yes and started in the "Oettinger car" Gunnar Blomqvist driven in Spa-Sofia-Liege, Pauli Toivonen started in that car he drove and Rune "Ruppe" and Börje Nilsson drove his Spa car and so Berndt Jansson. But Berndt and Jerka had scrapped his car. Also Henny-Britt Ehringe. That's why the competition stalled and did in order two white 62s who have gone as service cars on Scania. They were rebuilt underneath and technically exactly the same specifications as the three remaining 63: s.
One was mounted in plexiglass panes, ceiling seekers were mounted and the hood painted black and in with real chairs. Vips had another "Oettinger car" for Berndt and Jerka.
The other 62nd was placed over the competition for some reason, so it remained completely white with the glass panes remaining andkept the regular upholstery, and no one was fitted ceiling fan or painted any hood black. The car followed the rally and was driven by ???? and ?????. The idea was that it would act as a companion car and as a "rolling spare part" if something is needed quickly for the "real" racing cars.
The only changes to the three original 63's from Spa-Sofia-Liege was to mount standard 40 liter petrol tanks back. The large 84 liter tanks with external filling were not allowed in this rally.
All the cars were driven to London in good time, actually three weeks before the competition, says Christer Jansson, Berndt's younger brother who worked in the competition department and was responsible for some of the technical stuff.
Once in London with the cars, some people arrived from Okrasa-Oettinger by air to make some updates. Swing arm bridges and shock bars were replaced into a developed variant that gave a few more horsepower.
So the rally was going on. Berndt Jansson / "Jerka" Pettersson and Bertil Söderström / Rune Olsson got off to a good start in the competition. It went worse for Pauli Toivonen and "Ruppe" Larsson / Börje Nilsson whose cars both stopped at first the route with collapsed gearboxes. Really why nobody knows in day. Some of the bad luck was left from the Spa. But things went well for Bertil Söderström with a map reader Rune Olsson. Surely they were picked by stretch and by stretch went into good placements.
Drove a tiller and Berndt and Jerka had really caught up. They even led the competition then the rear protective plate suddenly loosened at the front! Then suddenly found himself Berndt run a tiller! In addition, the plate turned back and the back of the car went up in the air and when Berndt finally got a stop on the unmanageable car, it stood hanging on the back cover!
There was only one thing to do – get under the car and unscrew the plate and trust that you would be able to throw get away when the last gangs released. It went well and you got away when the car fell down and you could
continue the route. But the incident had cost a lot of time and Berndt was now far from its first place.
Facts in the case were that Tom Trana won and, by the way, secured the European Championship.
The best Oettinger car was Berndt who fought anywaygot up to 8th place overall and became classmates. But he
had to find himself coming after "Erik on the roof" who stayed seven. Bertil Söderström finally went into a 12th place and 2.a in class. Again, it had turned out that the cars were competitive, Berndt had also led this competition but had failed to drive in what he lost on the loosened protection plate.
But now another thing had also happened. VW-Werk and Scania had signed an agreement Gerhardt Oettinger and his company Okrasa. They were overeven about keeping quiet about the whole project, especially since the VW factory's highest led audit was not informed of how it was. Officially, Scania would stand completely for the whole party.
It all would have been fine if not Gerhardt Oettinger been so incredibly proud of his part in this. He stated himself in a major engine magazine that "he would at least deliver cars and engines to Volkswagen itself"! As the headline was: "It is Gerhardt Oettinger who knows how to builds real Volkswagen! "
Thus, it was he himself who hit the nail in the coffin.
For this exciting project could have gone the way Scania and the Volkswagen director themselves had been able to make the launch and inform Nordhoff properly.
Now, instead, Gerhardt Oettinger's statement naturally reached Heinz Nordhoff which was furious scampered on the phone and personally banned Scania and D´leteren to include in the program a single car that does not was standard and came directly from the factory.
The story ends
Thus, the fairy tale was all and all five racing cars at Scania was sold shortly. The three remaining 63s and the two 62's.
Pauli Toivonen's car was bought by Leif Hansen who was one of the competition leaders at Scania. His intention was to drive the one on the track. However, the effect was not sufficient against Lotus Elaner and the like so he mounted a Porsche Super 90 engine, fed to 100-110 horses.
It went well on the slightly trickier tracks and that became some decent placements during the 1965 season.
Signed saw summer 1965 Leif Hansen run the white people wagon with the black hood at Knutstorp.
Cars you normally thought a Volvo wagon would not havea chance against really got to work to keep away.
He drove in class 3 up to 1600 cc, placed got third and thus got 4 SM points.
The following year, Leif Porsche 911 drove on track which he later became Swedish champion in.
The Oettinger people dispersed in the wind and ended up different locations in Sweden. But they did not live very long when there was no obstruction to rust protection, moreover these engines needed some extra supervision.
However, one of the cars was driven by a private driver in 1965
This year's Monte Carlo rally, it was Gunnar Blomqvist's Spabil, as well as Bertil Söderström's RAC car that ended up in the hands of Stockholmer Bjarne Hermansson. We do not know his place in the rally, only that he participated in one of the worst Monte-Carlo rallies ever seen from the weather point of view.
All of Scania's five 63s and the two 62s are gone today. And my interest in these cars is that the 62nd who Berndt drove in the RAC eventually ended up in Ljungby.
BA 54874 VW Oettinger 1964. Chassis number 6465356.
First registered 4/8 1964. Owner AB ScaniaVabis. Competitions: Spa-Sofia-Liege, driver Henny-Britt
Ehringe / Eva-Maria Falk.
The end: Happened to an accident during Spasofia-Liege and became so embarrassed that it was scrapped.
BA 54875 VW Oettinger 1964. Chassis number
6464915. First registered 4/8 1964. Owner AB
Scania-Vabis. Competitions: Spa-Sofia-Liege -64, driver Gunnar Blomqvist. RAC rally -64, driver Bertil Söderström /
Rune Olsson.
Other owners:
12/1 1965-, new reg.no AA 1315, Bjarne Hermansson,
Stockholm. He attended the car in the Monte Carlo rally
1965th
9/4 1965- AB Rolf Haider, Stockholm.
10/2/1966- Södermans Excavators, Viggbyholm.
3/11 1966- Matz hellström, Åkersberga.
14/8 1970- Sven-Åke Hilland, Bergshamra.
21/10 1971- Liljeblads Bil AB, Norrtälje.
15/11 1971- Leif Strömberg, Norrtälje.
The end: Leif Strömberg tells us that the car really felt worn and that it had to be included. It had left
The Oettinger engine and Porsche brakes with the spacers. The car was now completely white. Replace it with an opel
Record Taxi -70 in 1971. Caretaker Janne Larsson at
Lundqvist Car & Motor in Södertälje drove it for a few months, then to the scrap when it was totally uprooted.
Then there was a 40 liter tank and 34 horses in it. Nothing
saved by the car.
BA 54876 VW Oettinger 1964. Chassis number 6466217.
Registered for the first time 4/8 1964. Owner AB Scania
Vabis. Competitions: Spa-Sofia-Liege, driver Berndt Jansson /
Erik Pettersson.
The end: Happened to an accident during Spasofia-Liege and became so embarrassed that it was scrapped.
BA 54877 VW Oettinger 1964. Chassis number
6464751. First registered 4/8 1964. Owner AB
Scania-Vabis. Competitions: Spa-Sofia-Liege -64, driver Rune
"Ruppe" Larsson / Börje Nilsson. RAC rally -64, driver
Rune "Ruppe" Larsson / Börje Nilsson.
Other owners:
23/12 1964-, new reg.no U 11117, Börje Nilsson,
Hallstahammar. Map reader for "Ruppe Larsson.
15/11 1965- Hallsta Bilkompani, Hallstahammar.
31/12 1965- Martin Bergius, Ramnäs. He drove some rally with it. He thought it had fantastic road characteristics and an ordinary PV did not stick with acceleration. Fantastic nice suspension, did not bottom despite hard
landings. He painted the hood white during his time.
28/3 1967- Hallstahammars Car Department Store, Hallstahammar. (Renamed to VW 1200).
28/3, new Reg. No. D 11487, Valter Buhr, Eskilstuna.
15/6 1967-, new reg.no BA 19507, Christer Johansson, Segeltorp.
9/4 1968- Lennart Oldengren, Stockholm.
6/6 1968- Bo Ekestam, Tyresö.
9/7 1970- Thomas Olofsson, Tyresö.
23/2 1971-, new reg.no U 59057, Bengt Lundberg, Köping.
2/2 1972- Bilfirma B Edström AB, Tumba.
29/2 1972- Eero Pitkänen, Norsborg. There were none race equipment still left, the car was completely white and had a regular SEK 34 engine. Can't remember where he sold it.
End: The car new reg.no AEG 917. The instrument stands
"Avreg. year 1978 ".
BA 54878 VW Oettinger 1964. Chassis number
6468160. First registered 4/8 1964. Owner AB
Scania-Vabis. Competitions: Spa-Sofia-Liege -64, driver Pauli
Toivonen. RAC Rally 1964, driver Pauli Toivonen.
Other owners:
1/12 1964- Leif Hansen, competition manager at ScaniaVabis.
Run track race in the 1965 season, first with the Oetting engine, then with the Porsche Super 90 engine. Supplied plastic screens and plastic hood.
13/12 1965- Nils Gunnar Karlsson, Huddinge.
22/2 1968- Bertil Karlsson, Huddinge.
21/3 1969-, new reg.no U 52768, Stig larsson, Tärnsjö.
27/9 1971-, new Reg. No. BD 60468, Per Grapenson,
Norrfjärden. Bought the car in a barn in Knivsta. The spring blue exterior. It had a "snake" and a 40 liter tank. Otherwise, with all equipment left. He drove it for a couple of years and thought it was very nice to drive.
End: Listing College Notebook: Dick Karlsson, new
reg.no CAH 118. Was taken in a flying inspection. Problems with the brakes. Had the racing equipment.
Sold to a friend who didn't get it through the inspection, he then sold the engine and everything that went on sale
in parts and cut down the body to scrap. Nothing left.
BA 21134 VW 1200. Chassis number 4752801. First registered 20/6 1962 as a service car at Scania Vabis. Renamed for VW Oettinger 28/10 1964.
Competitions: RAC Rally 1964. Driver: Berndt Jansson /
Erik Pettersson.
Other owners:
15/2 1965-, new Reg. No. G 40104, Calle Johnson, called the "Flying Lantern" due to his drivingcountry trade in Skeen between Ljungby and Halmstad. Triple Nordic Champion and Triple European Champion in Formula V. Raced some smaller competitions with Oettingern and some ice rink competitions.
7/11 1966- Allan Jonsson, Ljungby, did not race. During Allan's time, a bearing will be cut in the engine.
9/5 1968- Bil-Centrum, Ljungby. There it was for sale
for SEK 3,500, still with alas well as the car, it later ended up in a home building
with a used standard crankshaft fitted.
8/7 1968-, new reg.no F 77404, Kjällemo New Furniture
AB, Vaggeryd.
19/7 1968-, new reg.no OB 11954, Fredrik Taikumer,
Gothenburg.
8/11 1968- Leif Hultén, Hovås.
4/12 1968- Tore Charlesson, Ljungskile. crashed
the car ahead.
6/5 1969- Försäkrings AB Fylgia, Gothenburg.
28/5 1969- Ingemar Sällbergs Car Workshop, Nossebro.
Removed from the register 13/8 1969.
The end:
Over the years, all the equipment and when it disappeared
when it crashed, it looked like a very ordinary white people car.
The editor of this article bought many years ago what was left of the car.
B 97998 VW 1200. Chassis number 4052296, engine number ?. First registered on August 28, 1961 as a service car at Scania Vabis. Renamed for VW Oettinger 24/8
In 1964.
Contests: Follow-up car / travel van in RAC rally 1964. Crew: …………………….?
Other owners:
29/12 1964- Ingemar Svahn, Södertälje.
23/9 1965-, new reg.no A 88988, Gunilla Gillners,
Bromma.
8/4 1969- Anders Gillners, Ekerö.
14/6 1972- Håkan Lönn, Ekerö. New Reg. EOR 136.
25/11 1977- Johan Norrman, Ekerö.
The end:
The car stood for several years in a parking lot outside one
apartment building without wheels, the Porsche brakes left. It was then
yellow and had plastic screens with the standing lights, was in
very poor condition. Untouched at the bottom, the reinforcements remain.
It then had an engine with the long standard intake manifold
with a simple carburetor (still the oettinger engine?)
The double gasifiers and intake pipes were inside the car.
Upon request to remove the car, it was looked down on
location and drove the parts to a landfill.