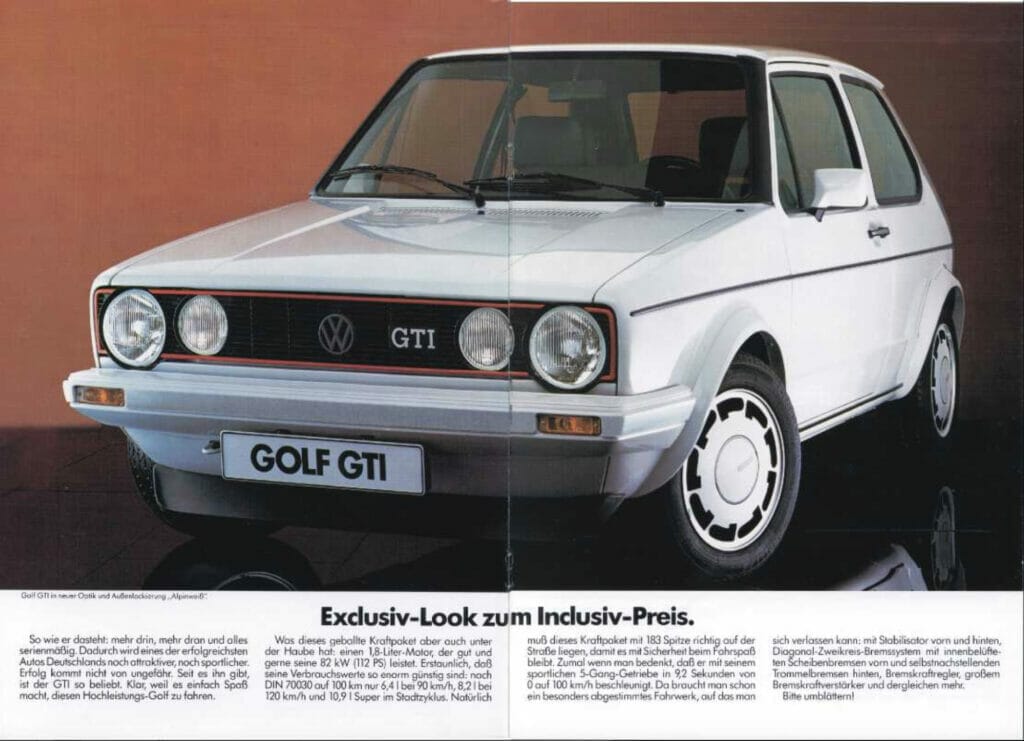 The PIRELLI GTI is the special model of 1983, if not The Golf 1 special model! It was built about 10,000 times from May to October 1983 and was delivered with the following equipment! They were sold simply as "Special model Golf GTI"! The special model was built from chassis number 17-D-448319 to chassis number 17-E-299999 (E = model year 1984!). As of mid-2002, the KBA informed me that there are still 276 vehicles registered with the key number 3.) 582015 of the Heliosblue PIRELLIS!


Technically, the PIRELLI corresponded to the "normal" GTI model '83 with a 1.8 l engine and 112 hp, matt black rear window surround (as a 4-piece sticker, NOT painted), narrow metal trim and door panels with pocket and almost L-shaped door handles. Furthermore, it was available as 2-door and a few 4-door models. With this little information, you should now be able to distinguish a genuine PIRELLI from a normal 1800 GTI. Models before October '82 with 1.6 litre engine and 110hp are out of the question as PIRELLI Golf anyway.


Details
– Double headlamp grille (always fog lamps!)
– Passenger outside mirror in car colour
– with red grill border
– tinted windows (green) on request without extra charge
– Sports steering wheel 4 spokes with leather rim
– Bumper, wing extensions in car colour
– Mirror base always unpainted in matt black
– Front spoiler always matt black (plastic & unpainted)
– PIRELLI alloy wheels with 185/60 HR 14 tyres on 6×14 (SERIES rim: ETKA number: 171 601 025A)
– no 15 inch PIRELLI alloy wheels with 185/55 HR15
– Steel sliding roof (optional extra)
– A-pillar trim (matt black, plastic & unpainted)
– Colours: white, red, helios blue metallic, Lhasa green
– other colours (special equipment)
– Engine: 1,8l 112 PS with K-Jetronic (MKB: DX)
– Gearbox: 5 gear (GKB: e.g. 7G, 9A)
– Black, narrow trim
– Tyres "PIRELLI P6" (and still to be found on the spare wheels!)
– Multifunction display
– Fuel consumption indicator (vacuum controlled)
– Matt black sticker around the rear window (NOT painted!)
This Pirelli Golf was delivered in 1983 as a 4 Door Variant with a Sunroof. It was repainted in the original Silver some years ago. All Important Pirelli Parts are in Place and the Car was never tuned. It was previously registered in Germany and has a Certificate of Authenticity from Volkswagen.
| | |
| --- | --- |
| Year | 1983 |
| Make | Volkswagen |
| Model | Golf, GTI, Pirelli |
| Colour | silver |
| Displacement | 1800 |
| Horsepower | 112 |
| Kilometers | 135000 |
| Location | Vienna / Austria |