VW 1302 S BAJA SE
Super rare
Original BAJA
highly original
1972 was an exceptional year for Volkswagen. For starters, the 15,007,033 unit of the Beetle rolled off the assembly line in Wolfsburg, Germany, ending America's Ford Model T, aka 'Tin Lizzy' long record of sales. In the same year, VW released the VW Baja Champion SE.
Only 1,000 units were made to celebrate the Baja's success in off-road racing between 1967 and 1971.
The 1972 VW Beetle Baja SE (Special Edition) is a rare classic offroader explicitly released for the United States market. In Europe, they were known as the Marathon Edition, while in Australia, they were offered in unique numbered plaques.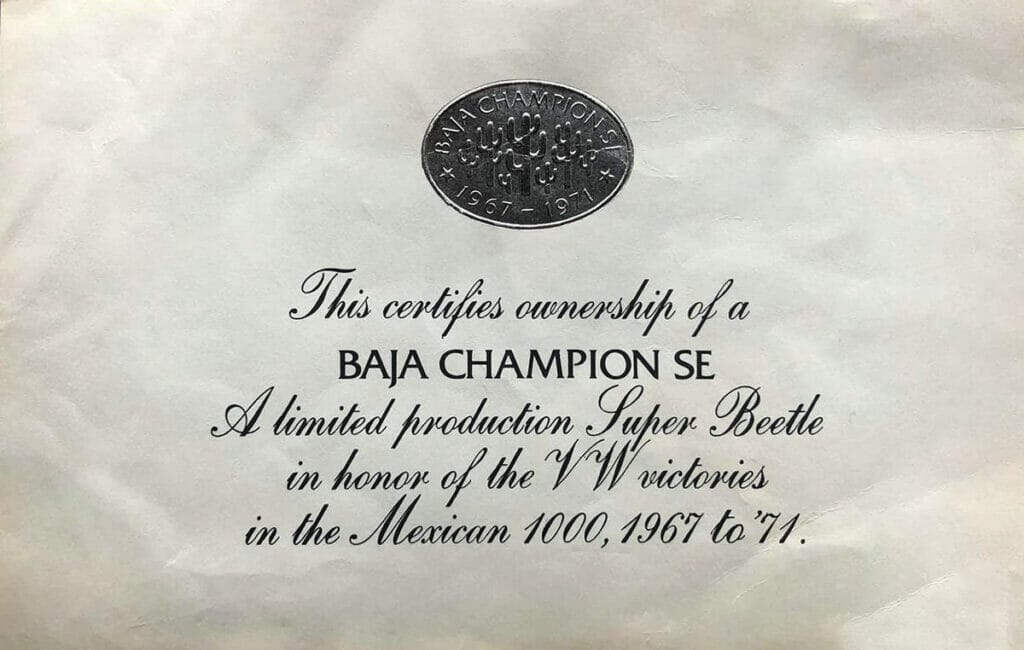 This original BAJA SE is one of this very rare Special Editions. It is unclear if it is a Champion Edition or the Dealer added Version.
Never been restored. It was painted in Leuchtorange from Factory and features all the important special Parts. Just the original Lemmerz Weltmeisterfelgen are missing.
Bid on your chance to be the next owner of this Ultra rare Beetle with none known to be in Europe.
Cover the Insurance with our Partner. Calculate it here
The vehicle description is provided to the best of the seller's knowledge and belief. We at Getyourclassic use our experience to work with the seller to provide a correct and accurate vehicle description. However, the bidder must satisfy themselves as to the accuracy of the description and make all necessary enquiries before placing a bid. Our General Terms and Conditions apply exclusively.
| | |
| --- | --- |
| Year | 1972 |
| Make | Volkswagen |
| Model | 1302S, Baja, Special Edition |
| Colour | Leuchtorange L 20 B |
| Displacement | 1600 |
| Horsepower | 50 |
| Location | Germany, Schwäbisch Gmünd |
Talk about it
---
Dieser VW ist ein Baja und kein Baja Champion. Ein vom Händler verbautes Zusatzpaket, nicht die werkseitig marathonmetallic lackierte Sonderauflage mit Weltmeisterfelgen. Siehe auch https://sebeetles.com/baja-2/
@Jan, das dachten wir auch, aber das Volkswagen Museum beschreibt Ihn als Volkswagen 1302 S Sondermodell Baja.
@Jan er hat sogar die Plakette dabei.
Sondermodell Baja ist ja auch richtig. Aber nicht ein Baja Champion SE. Es ist ein interessanter Fakt, dass auch die Ausstattung Baja bei VW hinterlegt ist. Eine nicht montierte Plakette kann auch später dem Auto aufgrund der Streifen hinzugefügt worden sein. Jedenfalls gehörten hier die Lemmerz-Sportfelgen nicht zur Serienausstattung. Ein Baja wie dieser ist auch nochmal seltener, weil er weniger langlebige Merkmale hat.