The Coppa delle Alpi 2023 is a relaunch of the historic race that travelled 2300 kilometres along the Alpine mountains back in 1921.
At the 3rd edition (2019, 2022, 2023) the 73 participants had to compete in 11 Time Controls, 7 Passage Controls, 90 Time Trials and no less than 60 Secret Average Trials along a route of more than 1,000 kilometres that crossed through Italy, Switzerland, Germany and Austria but, amid adrenaline-pumping curves and gruelling passes, provided unparalleled panoramas, views of some of the most spectacular glaciers, valleys and lakes in the Alpine arc.
The Brescia prologue of the event, the "Bergamo Brescia Italian Capital of Culture 2023" Trophy, took place on the morning of March 1.
The real start was then in Tirano heading to St.Moritz.
The early morning departure towards Innsbruck left us to a stunning Scenery in the Swiss Mountains.
On Friday morning we headed over to Italy
with the finish line in Brixen. Stunning roads and passages through beautiful towns with a lot of elevations kept the group excited.
The last and fourth day let to the finish line in Bormio.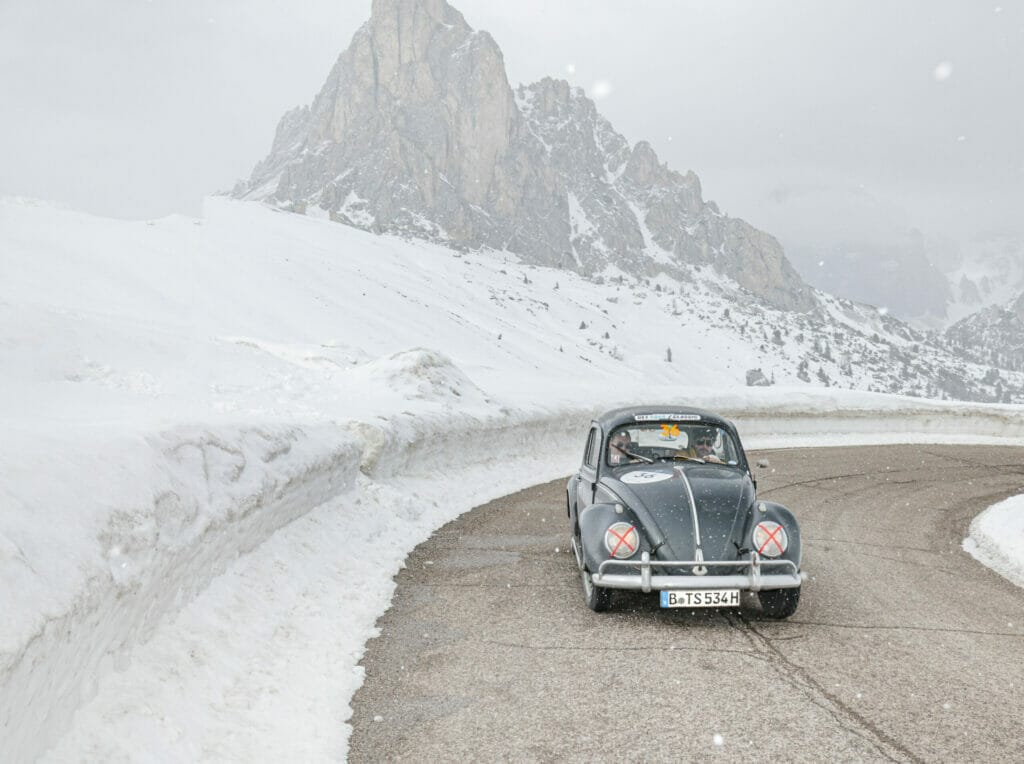 The first Cars arrived at 5 p.m. with the rest of the pack to follow. After more than 1000 km through the Italian, Swiss, German and Austrian Alps we were happy that our little Racer, a 1963 VW OKRASA Beetle made it to the finish line. We had great guided driving by our Italian Police Friends.
It was a wonderful 4 days of guided driving through the Alps with a perfectly organised team and a wonderful route